Best Practices
<strong>"The Path Forward": JR Sherman and Alicia Tillman Reflect on Pandemic Pivots and Events' Value in Any Economic Climate </strong>
8 Feb 2023 | Jessica F. Lillian | 3 minutes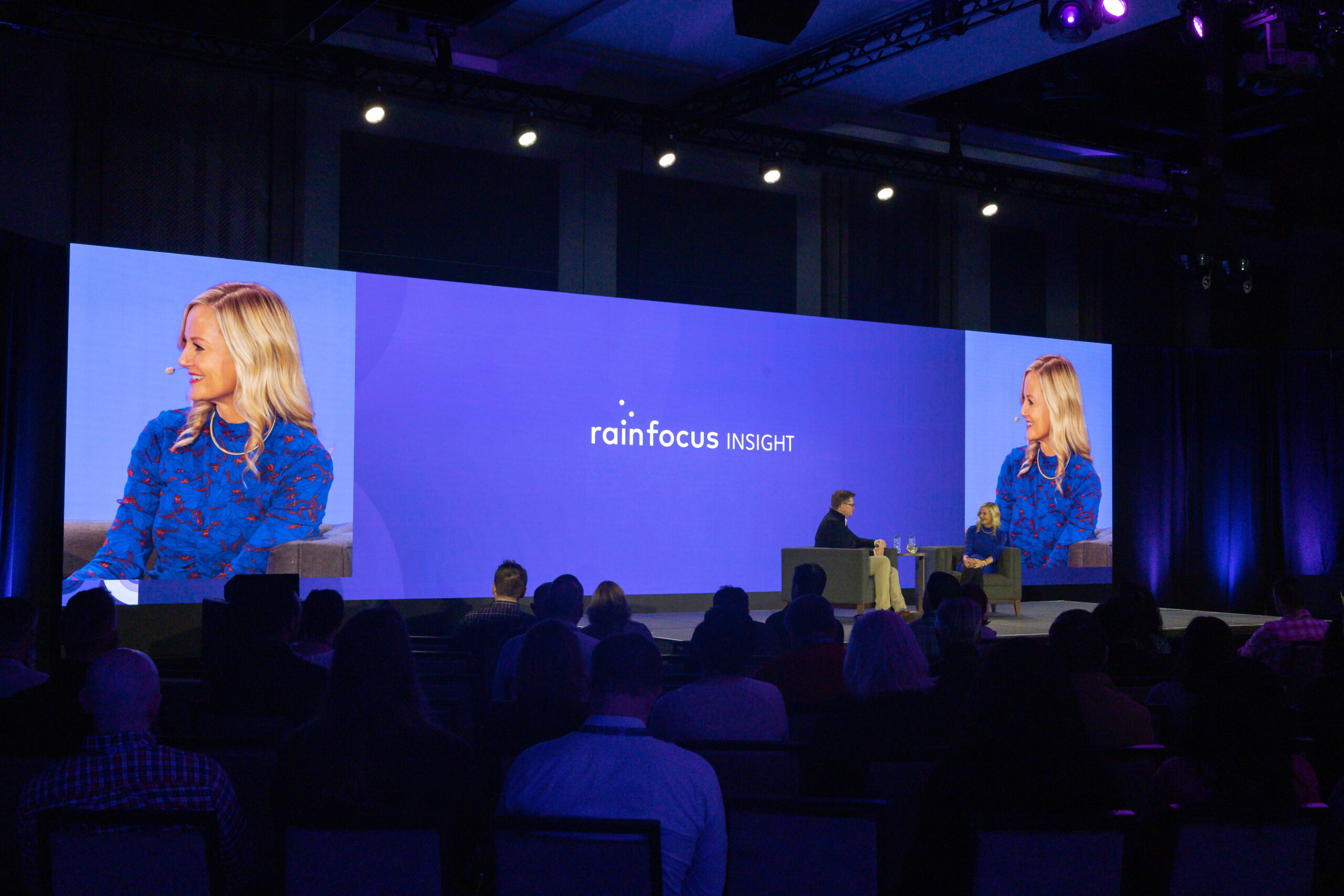 With every challenge comes opportunity. During a candid fireside chat at RainFocus INSIGHT 2023, industry vets JR Sherman (CEO of RainFocus) and Alicia Tillman (chief revenue officer at Capitolis and RainFocus board member) offered a realistic but wholly reassuring take on recent trends.
From returning to large-scale in-person events while delivering hybrid engagement to confronting economic fears and doing more with less, event leaders and marketing leaders with a data-driven, customer-centric approach will succeed. Having dealt with recessions and other challenges before, both leaders presented an optimistic view.
"Within a short time, we have already begun to see the path forward," Sherman said. "We are facing economic challenges, but we know what event formats and strategies work. Throughout all the pivots, organizations have learned a lot about engaging with customers."
The virtual era
Tillman recalled a nerve-wracking time in spring 2020, when the COVID-19 pandemic forced abrupt cancellations right as she was gearing up for a critical global in-person event just a few weeks away as the then-CMO of SAP. "We needed to pivot quickly," she said. "We knew that event was so critical for maintaining connections to our customers, and we spent the months immediately following our virtual pivot seeking to really understand what it means to preserve the integrity of an event in any format." 
With the sudden rise of virtual events, it was time for event platforms and other technologies to shine. In an exciting twist, the value of data and personalization became more evident than ever — a guiding force that continues even as large-scale in-person events have returned.
"One of the biggest trends was that organizations suddenly realized why events are so powerful," Sherman said. "Events provide a captive environment that matches someone's needs. The more personalized that environment is, the more valuable it becomes. Awareness of that power really grew during the pandemic."
Tillman noted that the virtual event era also highlighted the deep, intricate dependencies that many other teams within the company have on events. Insufficient or clunky event infrastructure or poorly chosen partners can have a major impact on company growth.
Even now, as many companies cut their workforces and trim budgets, investment in events is expected to endure. Recession concerns and spending scrutiny should prompt an even greater focus on customers.
Customer journeys
"Regardless of what's happening in the world and the industry, events provide interaction across the customer journey," Tillman said. "It's the only immovable channel that can stand the test of time — an incredible opportunity for CEOs, CMOs, heads of events, and anyone responsible for the customer journey. Events touch every function that a company uses to drive growth." From product launches to sales cycle acceleration to kicking off new relationships, it all happens at events. 
"The customer journey must always be at the center," Sherman agreed. He added that this year's INSIGHT theme — Unifying Events — includes both unification within the event strategy and unification of events with marketing. Creating experiences and collecting data is important, but connecting the data with other internal technologies, such as marketing automation platforms, fosters alignment and gives an additional edge.
RainFocus' recent announcement on joining the esteemed Adobe Exchange Partner Program as a Platinum partner speaks to the growing importance of technology integration.
"It's another way to bring events even more to the forefront when you see integrations with industry leaders like Adobe," Tillman said. "It catapults events much further into this leadership position and helps drive even more customer retention."
To watch (or rewatch!) this session and all the other great presentations at INSIGHT, log in here! New recordings are being added daily.
---