Event Data Measurement and ROI
Unlocking Event Data to Fuel the Customer Journey: Highlights From Our Benchmarks and Trends Webinar
28 Sep 2023 | Heather Pryor | 2 minutes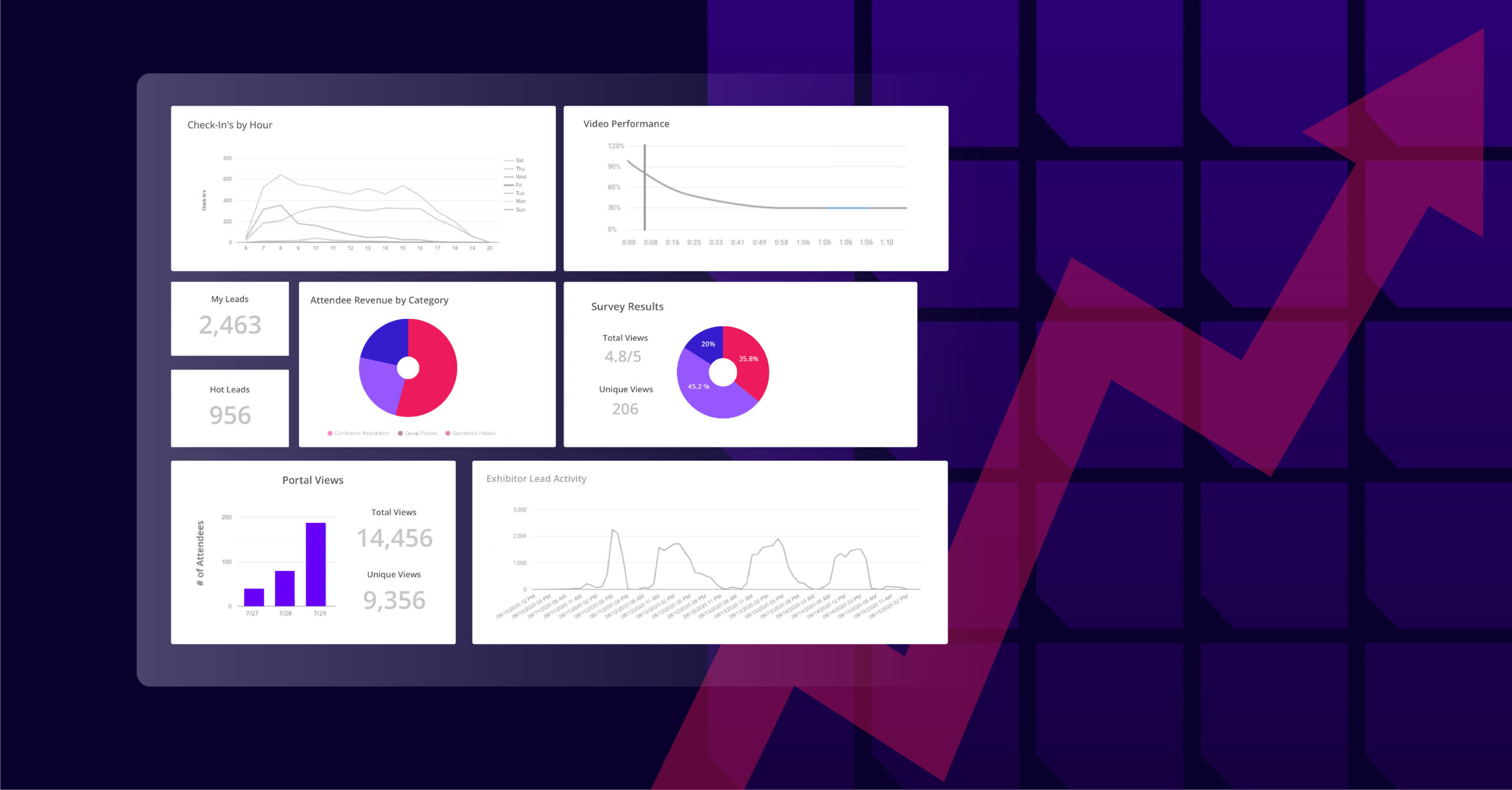 Event data plays a powerful role in the entire customer journey. One key is understanding where you stand and how your events are performing by reviewing industry benchmarks.
RainFocus' recent webinar — "Unlocking Event Data to Fuel the Customer Journey" — led by some of our most accomplished thought leaders, provided an important introduction to measuring event success and using insights to help your business. (If you missed it, you can catch the full replay now on RainFocus On Demand!)
Here are some quick webinar highlights:
Overview of Our Benchmark Methodology
As explained by webinar speaker Robert Clark, senior business intelligence consultant at RainFocus, there is no one-size-fits-all way of measuring events. This is why our team takes a collaborative approach to truly understand the goals and nuances of our clients' events. To ensure our clients have the most relevant benchmarks to compare their events to, we divided our metrics into different groups based on event size, time of year, and delivery format (virtual, in-person, and hybrid).
Audience Engagement Trends
Webinar speaker Ashleigh Cook, SVP of marketing at RainFocus, highlighted benchmarks for registration, check-in rate, session attendance, and overall event engagement. Registration data, which is typically very predictable for in-person events, tends to vary for virtual and hybrid events. In 2020, many teams saw a decline in check-ins, session attendance, and exhibitor visits. However, these levels have since increased, with gamification key to increasing participation.
Cook also shared suggestions for increasing event engagement, such as using mobile notifications to drive session participation, offering ample time for networking between sessions, and creating more programs that help exhibitors maximize their time on-site. In the past few years, limited budgets have hindered audience and exhibitor participation, but our data shows budgets have begun to expand again, boosting performance.
Establishing Event ROI
Most importantly, speaker Brian Gates, SVP of industry strategy at RainFocus, emphasized the value that events provide at every step of the customer journey. He explained that events can be leveraged for everything from building awareness to establishing customer loyalty.
Gates also offered tips for using event data to advance the customer journey. One of the most critical is to create visualizations of your event data that create a story for stakeholders.
For more best practices and access to all of our industry benchmarks, watch the full webinar through RainFocus On Demand.
---