Best Practices
"Today Is a Turning Point": RainFocus Execs Discuss Adobe Partnership and Industry Trends at INSIGHT 2023 Keynote
17 Feb 2023 | Jessica F. Lillian | 3 minutes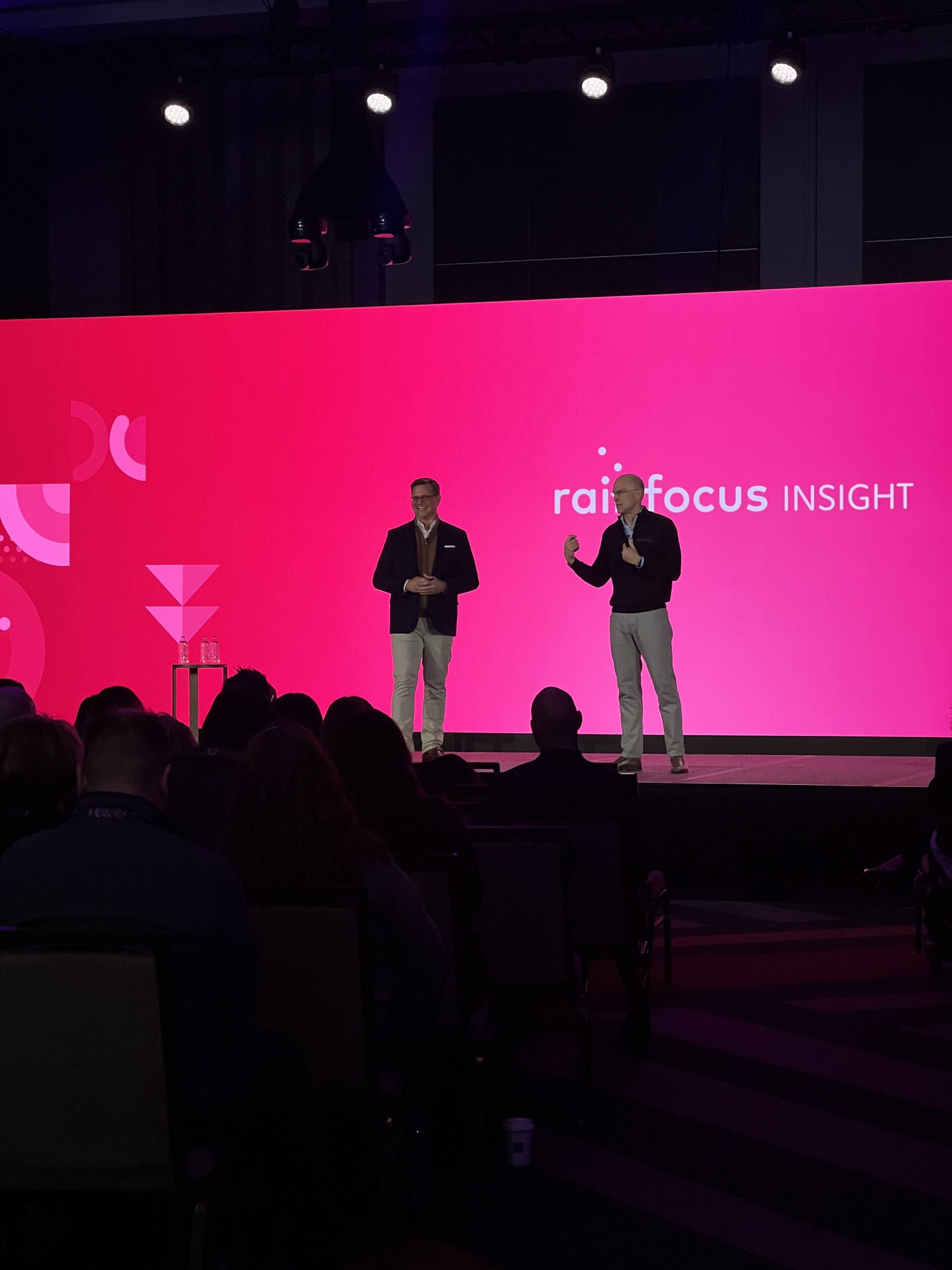 RainFocus INSIGHT 2023 opened with an inspiring keynote, as RainFocus leaders Doug Baird (founder and president) and JR Sherman (CEO) took to the stage in front of a crowd of live attendees. The executives were joined by Nik Shroff, senior director, Global Technology Partners, at Adobe.
Baird's declaration that "Today is a turning point" rang true on multiple levels. To start, this year's INSIGHT conference represented the first time since 2020 that the event was held in person, and each speaker noted the electric excitement in the room. Sustaining relationships and growing business throughout the pandemic's early years, when events and meetings abruptly went virtual, and emerging to the other side was a victory for RainFocus and clients alike, Sherman said.
"We were faced with what might have been the biggest challenges of our careers, and we overcame it because we stayed true to what mattered," he explained. "It's all about your customers. It's all about matching content with experiences."
The leaders and innovators attending INSIGHT were forced to undergo an intense few years of compressed evolution. Now, more change is afoot — but fortunately events leaders have always been nimble.
"When you look back at the past nine years since RainFocus was founded, it was the what," Baird said. "Now it's the why — why does it all matter, and why is it all important? That is the transition that the entire industry must make." 
RainFocus' longtime emphasis on data collection and integration will continue to provide clients with advantages in any market conditions. "Events are becoming more and more valuable," Baird said. "They are the most important source of data companies have."
With the deprecation of third-party cookies, zero-party and first-party data — such as that provided through an event participant's customer journey — comes to the forefront.
Uncertain economic conditions and lingering after-effects of the pandemic's shift to WFH and virtual offerings may also increase events' importance.
"In a recession, the companies that are the most successful are the ones whose leaders realized they need to get in front of customers more, not less," Baird explained. "That's an opportunity again for the events world." 
In addition, sales teams accustomed to face-to-face interactions at their prospects' offices have faced additional challenges as many people continue to work from home. An industry event provides a perfect setting to schedule that valuable in-person meeting that could solidify a relationship or even seal a deal.
"Business relationships happen when you're together," Sherman said.
Given RainFocus' history in strengthening and elevating the connections between events and marketing, a newly announced partnership with Adobe brings these capabilities to the next level. Shroff said RainFocus' role as a Platinum Partner in the Adobe Exchange Partner Program will provide marketers with even more data to use in real time.
"RainFocus provides a wealth of data, and events and conferences are an important part of the marketing mix," he added. "The partnership reflects our mutual belief in delivering great experiences online and offline with audience activation, digital content, etc. — all anchored by a 360-degree customer profile to deliver personalized customer experiences at scale."
Missed RainFocus INSIGHT? Want to re-watch your favorite sessions? Check out our growing selection of sessions available to watch on demand here!
---