Best Practices
Seven Reasons for Unifying Your 2021 Events with One Platform
16 Sep 2020 | Heather Pryor | 3 minutes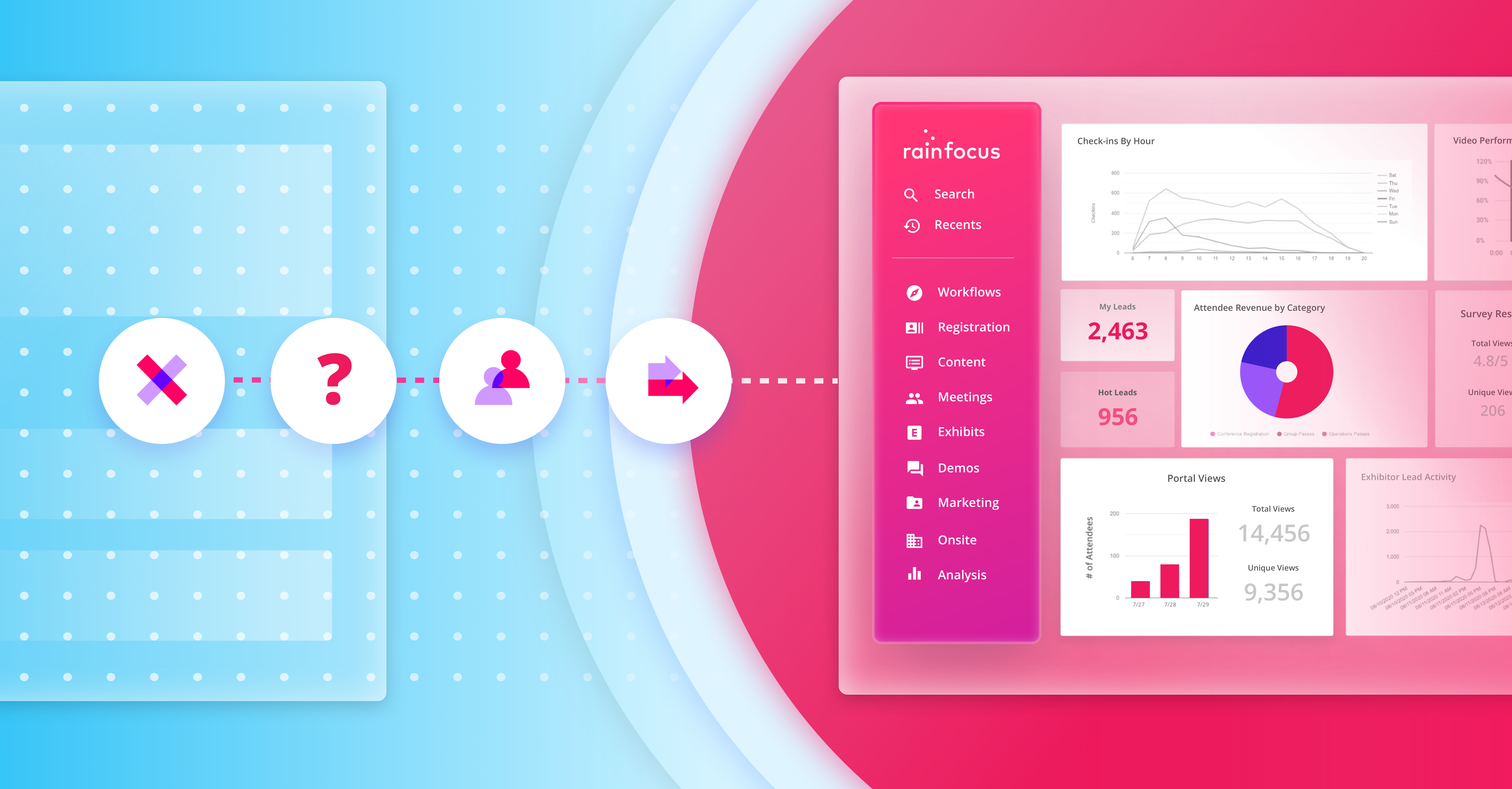 Traditionally conferences, strategic meetings, sales kickoffs, and other types of events have all been run by different departments on varying technologies. This fragmentation greatly limits the number of insights that marketing, events, and sales teams could be utilizing to build pipeline or retain clients. To make matters worse, these teams are now further separating their event data by adopting new technologies to deliver their virtual and hybrid events.
As you plan your future virtual and hybrid events, consider these key benefits of using one platform for every event in your organization:
Optimize cross-event insights to guide engagement
The number one benefit of consolidating every event into one platform is the ability to cross-examine events easily. With all of your attendee info in one place, you will be able to dial in the right types of engagement for each event, whether virtual, physical, or hybrid.
Demonstrate year-over-year growth and progress
Downloading, uploading, and updating spreadsheets over and over again to share year-over-year insights with stakeholders takes time, organization, and leaves room for error. With all of your events in one platform, you can easily send one cross-event report without having to copy and paste any information.
One connection for marketing and sales technology
Having one platform means you'll only need one integration with your sales and marketing technologies. By consolidating all of your technologies, you eliminate potential security breaches, simplify measurement, and enhance reporting.
Upload once and update everywhere
One of the greatest advantages of having just one platform is the ability to upload spreadsheets once and then use that data anywhere. For example, with RainFocus, data is updated across all of your events the moment you upload a file—ensuring that you have the most relevant information regarding every aspect of your event for each event setup.
Processes that carry over from event to event
Online event setup can be the most time-consuming task of planning an event—but with the right platform, you can cut the work in half. A truly unified event platform will enable you to reuse processes for registration, speaker management, exhibitor management, and much more.
Consistent value despite the format
Virtual events have opened new opportunities for event professionals to reach a bigger audience and experiment with new forms of engagement. While this experimentation is fun, it will all be for naught if you don't take what you've learned this year and apply it to your future events (whether they are virtual, physical, or hybrid). Virtual engagement has proved too valuable to lay to waste. When it comes time to pivot back to physical events, having one platform that can deliver any type of experience will remain of utmost importance for attendees who prefer to engage online or who cannot attend in person.
Familiar support and people
Along with all of these benefits, having one platform means you'll be working with one team who knows exactly what your requirements are, how your team is structured, and how you can improve upon previous events.
RainFocus has all of these benefits and more allowing teams to plan long-term but act short-term. In addition to offering the next-generation platform for virtual, physical, and hybrid events, RainFocus is structured to deliver any of the following types of events:
Click any of the links above to learn how RainFocus optimizes each experience or request a demo to find out how you can combine your cross-departmental event efforts.
---