Best Practices
Nine Tips For Optimizing Your Event's Education Sessions
15 Sep 2018 | RainFocus | 4 minutes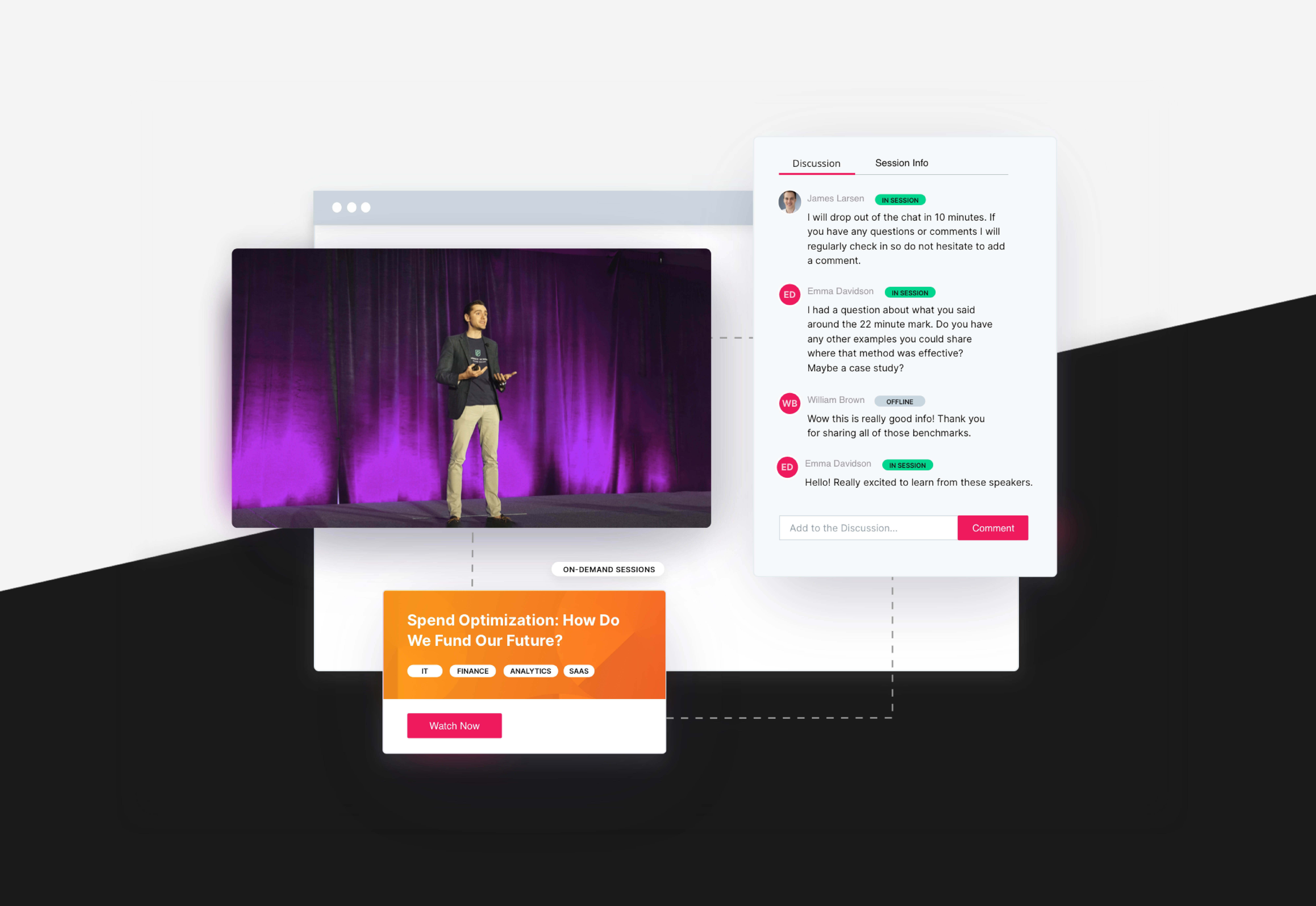 Ask a conference attendee why they are there and they'll likely tell you for the education sessions. The education offerings of any conference act as one of the most powerful reasons individuals choose to dedicate the time, money and all needed resources required to physically attend an event.
It's no surprise that event teams place a huge importance on getting this aspect of the conference right. To accomplish this, these teams often include a dedicated Content Manager tasked with arranging everything from topic selection to speaker sourcing to room logistics. Content Managers are constantly looking for ways to improve the sessions offered to spur more engaged audiences and build repeat and new attendance.
Below is a list of nine tactics Content Managers use for optimizing sessions and keeping the education offerings of their events second to none.
1. Surveys after each session
Post-session surveys are not only the most obvious tactic but the most high-impact. Immediately after each session, have attendees give their feedback about it. The timing is great because the content of the session and the opinions of the speaker are still fresh in the attendees' mind. Additionally, if there is an aspect that was particularly good (or bad), it's likely the attendee is looking for a venue to voice it. Utilize your event marketing software to send surveys right after the session concludes.
2. Retain the highest rated speakers
Take the ratings given to speakers in the surveys and immediately prioritize those for retention during the next event. When survey data is in, reach out to the highest rated speakers for future participation. The faster a speaker is contacted about their fantastic performance and given an opportunity to be involved again, the more likely they'll opt to participate.
3. Let speakers see feedback
Send the survey results of each session directly to the speakers. There is no better way for them to improve for future presentations than by seeing direct feedback from those in the audience. Your event marketing software should allow audience feedback to be sent directly to each speaker.
4. View the sessions that got booked the fastest and replicate
Keep an eye on the sessions that book the fastest. Nothing validates the value of a session quite like seeing it run out of space quickly. Is it the individual speaker that was the major draw, or a particular subject that seems to have other popular sessions associated with it? Or maybe it correlates with the time of day in which the session was offered.
Figuring out what the driving factors behind popular sessions are is important to helping Content Managers place more focus on the hot topics, speakers and times. Replicate and offer more of what the attendees are clearly indicating they are interested in.
5. Comprehensive session breakdowns in an easy-to-use content catalog
A detailed but easy to navigate catalog of education sessions is vital for attendees configuring their conference agenda. Ensure sessions are easily discoverable by rich categorization of the topics, tracks, speakers, dates, and rooms. Attendees should also have the ability to directly add sessions they're interested in to their own personal online agenda. This functionality should be provided by the conference's event marketing platform.
6. Personalized recommendations in early attendee planning
A common question from conference attendees is "what sessions should I go to?"
When events boast large and very comprehensive session catalogs, it's not uncommon for first-time attendees to feel a little uncertain of where to start. Personalized session recommendations are a powerful way of helping these attendees see choices that are relevant to their interests and high value to their event experience. Based on a wealth of new and historical attendee behavior data, these personalized recommendations help bring more engaged attendees to the appropriate education sessions.
7. Find the right room for the right crowd size
Different sessions draw different attendance. Use good judgment in assigning rooms with appropriate capacity to sessions that are likely to attract a larger crowd.
You can then view ongoing registration data to test and validate the assumptions, adjusting rooms if needed.
8. Provide basic speaking instructions
Many speakers are experts in their subjects, but not experts in the actual art of speaking itself. Providing light guidance with best practices and tips for improving the verbal delivery of content can be extremely valuable to first time presenters, those who are audience-shy, or anyone looking to improve their performance.
One conference even went as far as sending each of their speakers a copy of 'Talk Like TED: The 9 Public-Speaking Secrets of the World's Top Minds' months prior to the event.
9. Recorded sessions
Finally, anyone who has attended a conference knows it's difficult to attend each session they've added to their agenda. Recording sessions offer attendees a convenient way to view missed sessions.
Recorded sessions also offer a unique opportunity to increase the event's ROI. Access to the video content is typically available with an extra premium from attendees. Event teams typically build these costs into the price of a higher-tiered attendance package or as an additional add-on.
---