Best Practices
An Event Tech Team's Guide to Replatforming
8 Apr 2021 | Ashleigh Cook | 5 minutes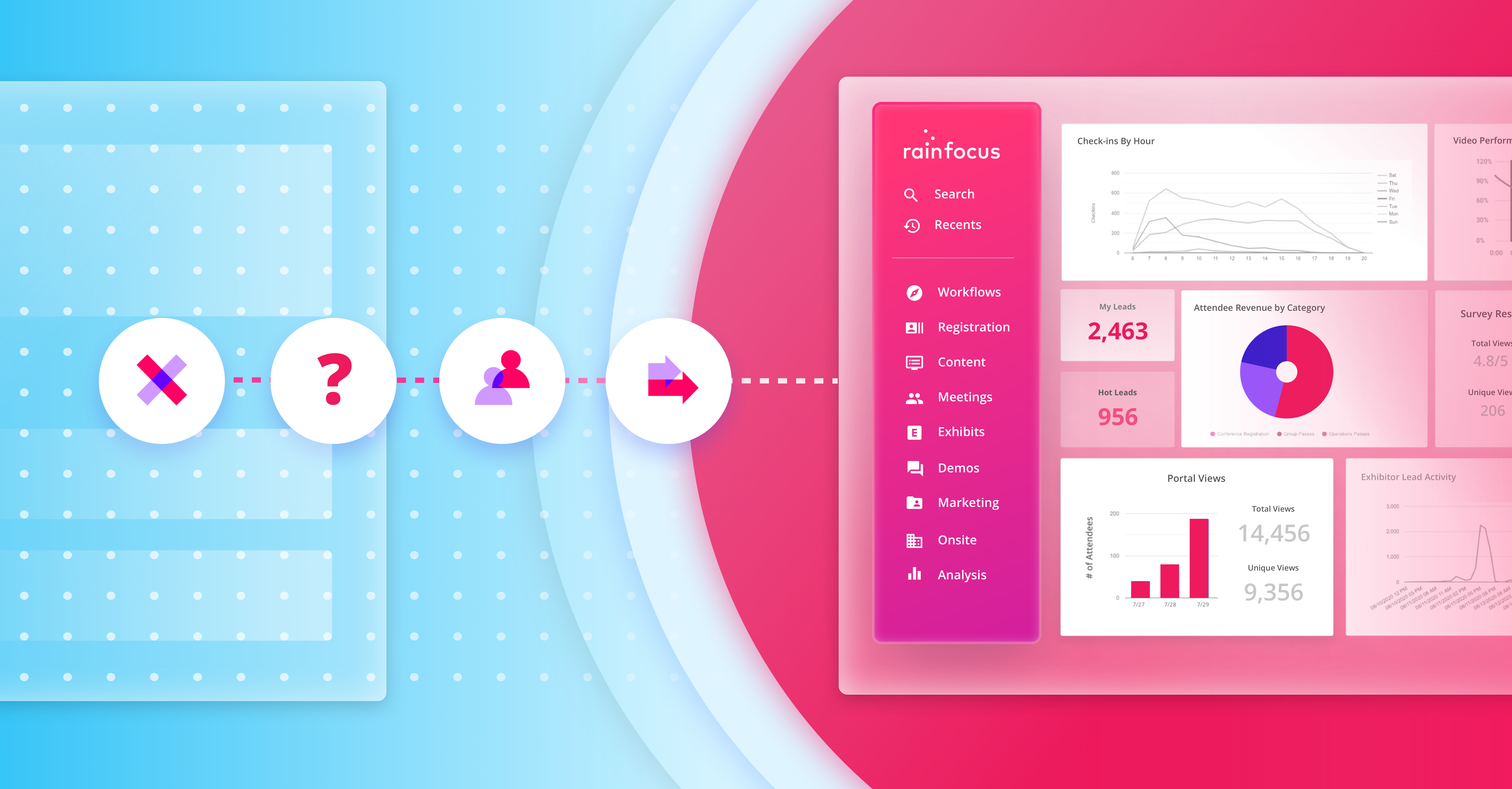 In today's environment, you need a flexible platform to power event success and often that entails ditching antiquated technology for a more modern, SaaS-based end-to-end event solution. Replatforming is arguably one of the most difficult endeavors you can tackle, especially in the midst of a busy events season, but in working with the most innovative brands who have made the switch, here are some best practices and tips to make it less daunting.
Before we jump into it, let's level set on a few of the basics:
What Is Event Replatforming?
Event replatforming is the process of migrating off an existing event platform to take advantage of modern technologies, environments, and architectures.
Why You Might Consider Replatforming?
There are a few reasons to consider replatforming:
Going Hybrid: Over the past year, organizations rushed to bolt on virtual-only solutions to their existing event platforms, which has left them managing multiple vendors and disparate systems. As organizations plan for hybrid, they will need a flexible all-in-one platform that handles virtual, physical, and hybrid experiences seamlessly in order to streamline operations and ensure the best experience for their audiences.
Being Migrated to a New Product: Other organizations may be forced to switch products within their legacy provider, essentially forcing them to replatform, which creates massive headaches and limited upside.
Why Is Replatforming Difficult?
The primary concern of teams who switch platforms is ensuring that all of the right integrations are set up and functioning as they should. Many teams avoid switching platforms out of fear that doing so will disrupt their user experience as well as the sunk cost of integrations or customizations that they think are too expensive to recreate in another platform. As with any new tool, adopting a new platform may require a bit of a learning curve. It is likely your team will have to undergo training to completely understand how to use the new platform's capabilities.
Another challenge of switching platforms is transferring data. Downloading and uploading attendee info can be monotonous and time-consuming. That being said, transferring your data to a new platform may also open up new opportunities for improved cross-event data analysis, increased visibility for stakeholders, and the ability to create consistent attendee experiences.
One might ask, "if replatforming is so difficult, why do so many organizations do it?" There are many reasons why organizations choose to change platforms. The following are reasons why companies have decided to make the switch to RainFocus:
What Are the Benefits of Replatforming?
Improved scalability. RainFocus clients are able to deliver their large complex event portfolios without error.
An enhanced user experience. Teams looking to ditch complex processes take comfort in RainFocus' simplified and streamlined event management.
Top-notch security. Events enable teams to gather and process large amounts of data, RainFocus ensures that data remains safe as it is shared with stakeholders through secure integrations.
Increased profitability. RainFocus empowers events and marketing teams to realize event value with instant access to event-qualified prospect data, insight dashboards, and more.
All-in-one event management. With RainFocus, event teams have the flexibility to seamlessly manage multiple events, whether virtual, physical, or hybrid, with one centralized end-to-end platform.
Ease of data clean up and import. RainFocus makes it easy to import all of your previous data (drag-and-drop field mapping, acceptance of common event file types, unlimited storage, and more) into the platform.
Expanded configuration and integration options. Modern platforms like RainFocus are designed to accommodate with ease all of the costly customizations clients may have spent in the past through our flexible configuration. Our rules engine and workflow builder make recreating and improving these customizations a breeze. Integrations can be just as simple and cost-effective with our large library of standard integrations and robust APIs.
Better support. Your current tech stack may be outdated and too much time wasted just to try and keep it afloat. Moving to a more modern codebase can mean fewer bug fixes or time spent talking to customer support.
Expand on best practices. Replatforming is a great time to take what you have loved or/are familiar with on your old platform and build upon it. It's time to rethink what is valuable, what you would do differently, and what you need for future growth, which can help drive massive efficiencies and set your team and events up for greater success.
Industry-leading innovation. Working with the largest and most innovative brands with the most complex event needs, RainFocus' roadmap is driven by customer feedback to fuel continued improvement for deploying immersive and integrated virtual, hybrid, and on-demand experiences with ease.
Is It Worth It? Our Recommendations for Replatforming
Despite the effort it takes to transfer data, set up integrations, and familiarize yourself with a new platform, replatforming can be extremely beneficial. The following are our recommendations for replatforming:
Consider the size and complexity of your events portfolio. As you begin your replatforming journey, look for a platform that will scale to meet high demand and enable you to pivot easily between virtual, physical, and hybrid events and support your large down to your small recurring meetings.
Determine how you will share data across your entire tech stack. Evaluate whether or not the platform you are considering can integrate with the tools you need before switching.
Look for a platform that is backed by world-class customer support. Seek a partner who will conduct load testing, meet often, and provide resources without charging you hidden fees.
How RainFocus Helps
Demonstrating return on investment is critical to quantify the benefits of switching, but success may look different for each organization. For some, the focus is cost reduction and time savings, while for others it's increased revenue. While these may look different for each customer, the results are clear. With RainFocus, customers save time, increase engagement, and maximize event value at every touchpoint.
RainFocus is equipped to adapt, flex, and make your job easier as your audiences expect more. As one integrated events platform, it brings companies and customers together with the right experience aligned to your goals and gives stakeholders a single, shared view of event success. In addition to the cost savings and results, our customers also save considerable costs by eliminating redundant expenses and hidden service fees—inclusive of integrations, reporting tools, troubleshooting, security breaches, testing, and more.
Explore how switching to RainFocus might ultimately save you time and money by requesting a demo.
---