Best Practices
Choosing the Best Platform Provider for Hybrid Events
14 Jul 2021 | RainFocus | 4 minutes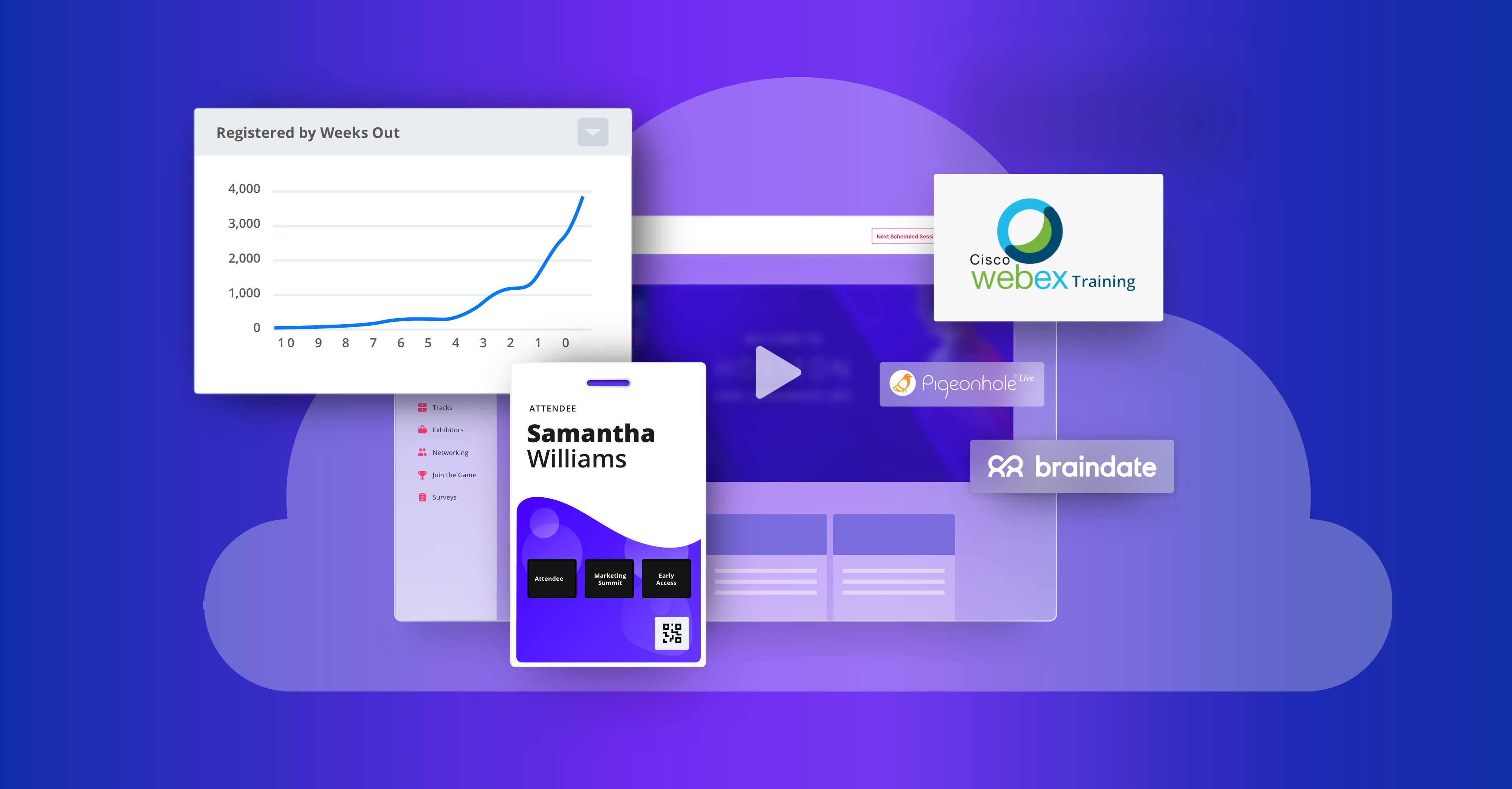 Choosing the ideal event marketing and management platform has never been more difficult. As organizations turn their focus to hybrid delivery, they are seeking event solutions that can do it all. Unfortunately, several misconceptions about hybrid event technology have been formed with the rise of so many new vendors in the space. To combat these misconceptions, we've put together some tips that can help you make that decision easier.
Misconception #1: You Need a Different Platform for Each Event
When evaluating a platform, it can be considerably difficult to source a solution that solves for multiple event programs. You'll want to start by looking for a provider that can personalize your customer journey through seamless event delivery across your entire event portfolio. Constantly sourcing event tech can be very time-consuming and costly. The best way to avoid regular sourcing is by looking for an all-in-one solution.
At RainFocus, we break down silos, encourage collaboration, and provide maximum attendee value by using event behaviors and actions to drive and accelerate event marketing campaigns. Additionally, we offer customized integrations that allow you to communicate data efficiently, personalize best-in-class experiences for your attendees, and streamline the production process for virtual and hybrid events.
Misconception #2: All Virtual Event Platforms Provide Equal Stability
Furthermore, it can feel overwhelming when choosing which platform is best for your company and your goals. Ideally, you will want to pick a provider that will allow you to thrive and integrate well. Because experience cannot be gained in just a few months, it is important that you choose a platform with stability and experience. Reliability is going to be something that will matter, so you will want to choose a platform with a good reputation and reliable past. One of the best things to do is ask for client references. Ensure the platform you choose has consistently followed through with the promises they've made. Consider, do their past users attest to their dependability, and do they speak highly of the platform?
"RainFocus is not just a registration housing and content platform, but it's truly a multifunctional platform that can perform and scale to meet your program needs, map out what you want your event and attendee journey to look like, and RainFocus will partner with you to execute on your vision." – Carrie Lewis, Senior Event Technology Specialist, Splunk
Misconception #3: Virtual Event Platforms Are Suitable for Hybrid Events
Hybrid events are becoming the most significant delivery type for virtual platform providers this past year. While many virtual event platforms tout the ability to deliver end-to-end hybrid events, their lack of experience and onsite technology makes them a questionable source for in-person delivery. We expect to see a shift back to true all-in-one platforms, such as RainFocus, that draw upon years of experience to drive engagement, whether onsite or online. Such platforms are well-equipped to deliver segmented registration, virtual and physical sponsorship value, reliable data capture, and onsite support in addition to live, simulive, and on-demand content.
Misconception #4: When Given the Option of Virtual or In-Person Attendance, Attendees Will Opt for Virtual Attendance Simply Because It's More Cost-Effective
Additionally, one of the most important aspects of choosing the right hybrid event platform is considering what attendees are seeking. Many fear that investing in a physical venue might backfire as attendees may choose to attend online to save time and money. One of the easiest ways to calm this fear is by simply asking attendees how they would prefer to attend your event. Because our human nature drives us to connect with one another, you'll likely find that attendees are anxious to return to in-person events. Once you understand what your attendees are expecting, you'll want to target the aspects of your event marketing and management platform that will drive the most engagement with your attendees.
Misconception #5: Hybrid Delivery is Limited to a Digital Experience Accompanied by an Onsite Event
It is equally important to realize that no two hybrid experiences look exactly alike. Event teams are constantly seeking new ways to engage their attendees. Now is the time to break the rules and think outside the box to discover new ideas that help incentivize people to stay engaged at your events. Consider how you might use your smaller virtual events to drive registration and spark conversation for your larger hybrid or in-person events.
Misconception #6: Compliance and Certification Are the Same When It Comes to Platform Security
Lastly, when screening for a platform provider, you want to ensure that you have continued trust with the company that you select. To achieve this, you should review your provider's security standards. You'll want to make sure that you have chosen a platform that takes security measures and data privacy very seriously. While most, if not all, event software providers will claim to be ISO 27001:2013, GDPR, and CCPA compliant, few are actually certified. Software solutions that are certified go through an extensive screening process to ensure the entire organization is abiding by the latest security standards. Lastly, examine how data is stored, who has access to it, and any past issues such as a data breach.

Learn more about RainFocus' hybrid event delivery by reading our most recent guide, The Future of Hybrid Engagement.
---