Event Execution
Encore: An Inside Look at the INSIGHT Event Program
25 Feb 2022 | Heather Pryor | 3 minutes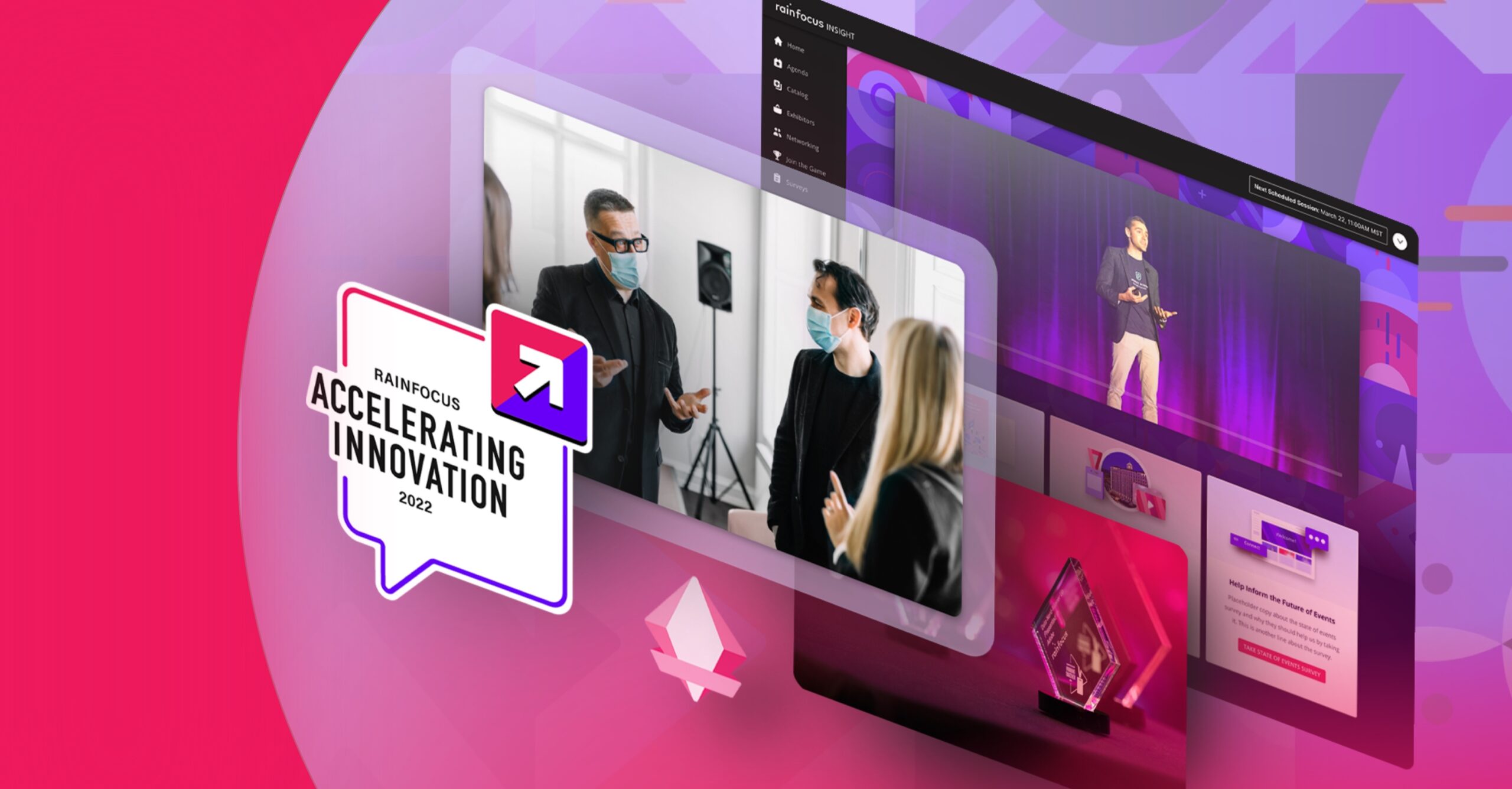 At INSIGHT Encore this week, which wrapped up the RainFocus INSIGHT 2022 program, RainFocus executives Brian Gates and Rodney Hart brought to light the strategy and metrics behind the successful INSIGHT event program. Their keynote session (watch it here if you missed it) covered INSIGHT planning, post-event engagement, and everything in between. Here are a few points they shared on what made INSIGHT so successful:
Exploring the Science Behind RainFocus INSIGHT
Event planning often follows the scientific method: First, you make an observation and form a hypothesis, and then you test your hypothesis and repeat as needed. Having an inside look at the most successful events in the industry, our team observed that repeat attendees were more engaged at subsequent events. Our team then formed the hypothesis that by unifying our small events with our annual conference through continuous content, we would exceed the previous year's attendee engagement.
To gauge the success of our hypothesis, we looked at several factors – including attendance, session participation and consumption, and networking. Despite a necessary pivot to a virtual event due to the evolving COVID-19 pandemic, our team saw a 17% increase in event registration with a 25% increase in year-over-year event attendance. While we experienced lower session participation, we did see a 14% higher consumption of breakout sessions (based on duration tracking). Additionally, we saw a 40% increase in the number of networking meetings scheduled. When accounted for in our event game, these attendee actions resulted in more than 1,000 activity badges awarded to attendees.
What's our conclusion based on these findings? Continuous content does contribute to higher overall engagement.
Continuous Content Is King
You've likely heard the phrase "content is king," and while that is still true, the current reality is that the consumers are bombarded with content. What is relevant one day will get lost in a sea of distractions the next day.
INSIGHT was built with the idea of continuous content in mind. We wanted to provide our audience with multiple touchpoints throughout the year that would offer them the latest tips and tricks for successful event marketing and management.
Applying that same idea of continuous content, our team designed an event portal to help attendees maximize their INSIGHT experience. We started by planning out conference tracks with a mix of live and simulive content tailored to each of our target audiences. The tracks were led by designated track hosts who kept a live content stream going in between sessions. Overall, more than 54% of our program content was live. The tracks were featured front and center in the event portal to encourage attendees to join in. As a result, we saw a 5% increase in alignment to tracks. To discover more about the design and theory behind our event portal, watch "Exploring the RainFocus Platform."
Pivoting Last Minute: How Going Virtual Impacted the Program
From the beginning of our planning, we knew it was possible that we would have to pivot our hybrid conference to be a full-virtual experience. As the Omicron variant became more widespread, our team made the difficult decision to cancel the in-person component of our hybrid experience one month before the conference. This decision led to a noticeable rise in registrations – which could be attributed to attendees' uncertainty around in-person attendance.
Had we stuck to our original plan of having a hybrid conference in Salt Lake City, the strategy behind the track channels would have remained much the same. Having the track hosts keep the momentum going in each channel would have allowed our in-person attendees the time needed to switch rooms, take a break, or simply stretch their legs.
What's Next: Building on Our Hypothesis
This is just the start of our attendees' journey with the INSIGHT program. As a next step, we will be releasing INSIGHT 365, a continuous engagement platform. INSIGHT 365 will feature all of our sessions that you experienced throughout our event program as well as monthly panels to keep you up to date with the latest insights and product enhancements.
Stay tuned for more information regarding INSIGHT 365!
---