Event Execution
How to Use Event Gamification to Drive Engagement and Predict Success
28 Oct 2020 | Heather Pryor | 3 minutes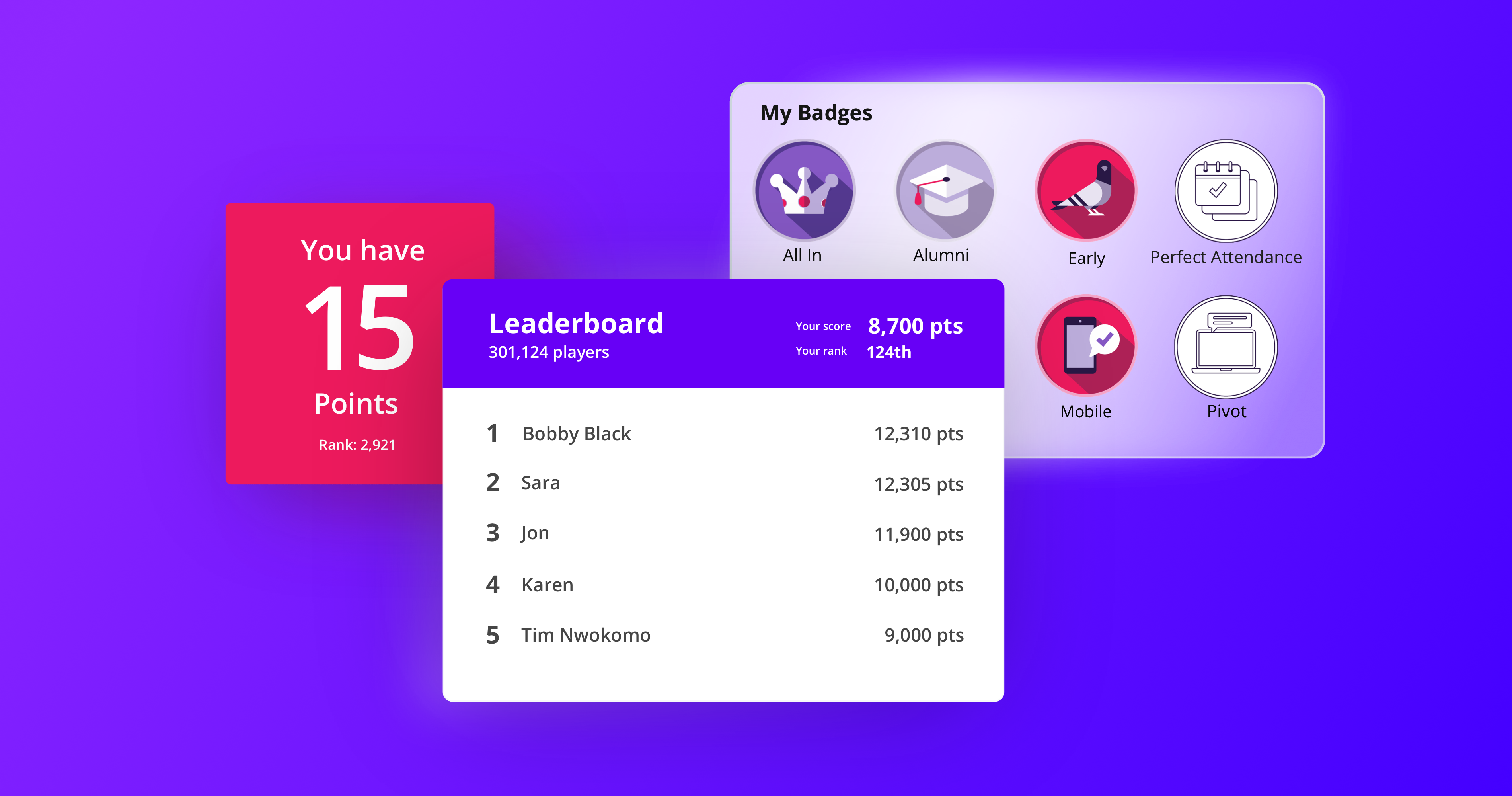 Over the last eight months, event gamification has proven for many to be the secret to achieving virtual event success. Because it leads to increased engagement, gamification should be an essential part of your prospect journey. If you can entice your audience to engage at your event, you open multiple doors of opportunity for your marketing and sales teams to communicate your organization's value. We've written up this post to help you get started.
Define Your Desired Outcome
No amount of gamification is worth the effort if it does not help you meet or exceed your event goals. As you plan your gamification, focus on your desired outcome, whether that is building a more robust pipeline, upselling your current customers, or just building brand awareness. Before you begin setting up your game and deciding on awards, figure out which metrics you'll need to have in order to show that you've met your goals.
Choose an Event Gamification Format that Meets Your Goals
Once you've figured out how you will measure your success, choosing your gamification format will be much easier. For example, suppose your goal is to drive sponsorship renewals, and you have determined you will measure the number of 1:1 meetings your exhibitors have hosted. In that case, you might consider a point-based game where attendees gain points by talking to exhibitors or attending sponsored sessions.
Other examples of event gamification include:
Event Bingo—Attendees earn letters on a bingo card by taking action at the event.
Level Up—Attendees earn increasingly hard titles by frequency and amount of actions taken.
Secret Code—Attendees earn badges by providing the correct codes hidden in the event.
Event Trivia—Attendees earn points by correctly answering event questions.
Scavenger Hunt—Attendees complete the hunt by discovering actions through clues.
Determine How You Will Motivate Attendees
In addition to planning your goals and deciding on a game, you should also arrange some sort of visual to incentivize attendees to act. Consider adding a leaderboard, personal scorecards, or notifications to your digital attendee experience. For your physical events, you might consider incorporating different colored sashes for badges.
Incorporate Networking Into Your Event Gamification
Your best advocates for your brand are those who choose to attend your events. Fortunately, your attendees are likely eager to make connections. Offer points or rewards to those who invite friends, meet with exhibitors, or join smaller working groups.
Consider What Your Awards Say About You
If your awards are the only things that attendees will take away from your event, what do you want those awards to say about your organization? Many companies have been offering to donate money towards charity for those who complete play along with their game. Other companies are offering more traditional prizes like t-shirts and coffee mugs. The donation says, "we know you care, and so do we," while the t-shirt/mug combo says something along the lines of, "you're a part of our team."
Analyze The Game As It's Happening
Equally important to planning is real-time analysis. Think of your event as you would your marketing. Each action taken by an attendee is a conversion. The benefit of gamification is that you can easily monitor and influence that conversion process within just a few days. As your event is happening, pay attention to who is close to reaching a checkpoint or winning a prize. Have they stopped engaging? If they have, send them a notification to point out that success is within their reach. Through real-time analysis, you can make meaningful recommendations that will guide attendees to their next activity.
Explore RainFocus Gamification
RainFocus is continuously helping enterprise companies turn their event gamification into actionable insights. Earlier this year, we shared the story of how Splunk seamlessly delivered their Boss of the SOC and Boss of the NOC competitions. Read the story here. To learn how RainFocus can help you drive more value through gamification, request a demo here.
---