Event Execution
Exploring Virtual Event Gamification
24 Feb 2021 | Heather Pryor | 3 minutes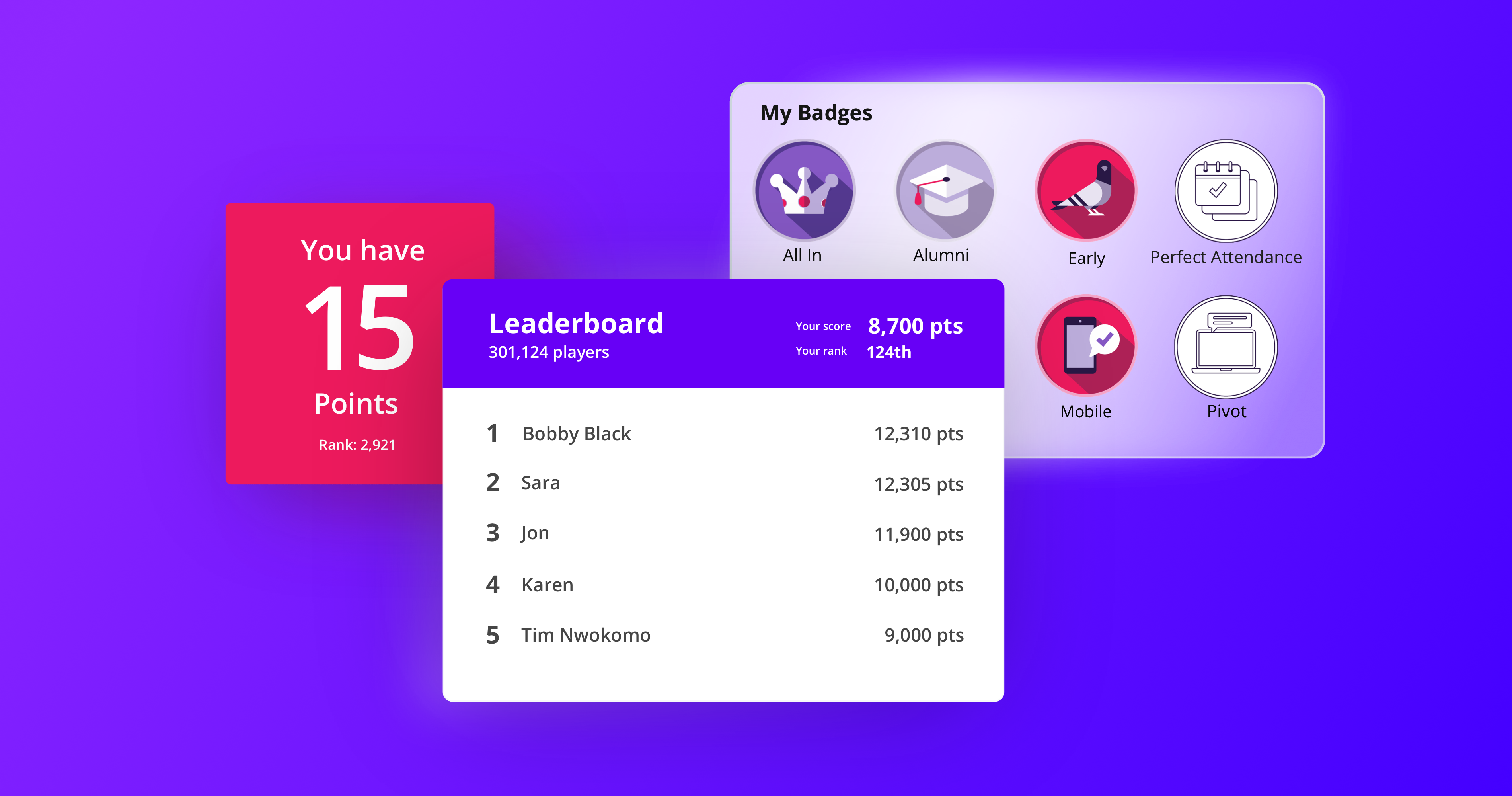 Virtual event gamification was a recurring topic during RainFocus INSIGHT (our annual user conference) this year. Gamification can be incorporated into any event to help your team meet your engagement goals whether it's motivating more attendees to register early, increasing the number of sessions attended per attendee, or boosting interaction for exhibitors.
As gamification has grown in popularity, to maximize engagement we hosted three sessions dedicated to teaching RainFocus users how to get the most out of their game strategies, each of which included Q&A. To educate those who missed out, we've decided to share the questions and answers that were given during these thought-provoking sessions.
How many people participate in the game?
Any number of attendees can participate in the game.
Can you create games based on other attributes aside from attendee type?
Yes. You can use any attendee attribute to govern the game. The parameters you set to structure your game should reflect your event goals. Creating the game by attendee type will enable you to identify and qualify buying personas.
Can attendees cheat the system?
RainFocus' event gamification is based on flexible business rules. For instance, if you want to reward session attendance and you're worried about people clicking into all of the sessions just to gain points, we can add an additional parameter to qualify attendees only if they watch for a certain amount of time.
Are badges and points awarded immediately?
You can set your game to automatically add points and badges, but you can also go in and make some manual adjustments as needed. For example, for our user conference gamification, we manually added points for those who posted on social media with our hashtag.
How much work is it for event managers to maintain the game?
The technology of the game is fairly easy to set up—especially for simple games meant for meetings. The majority of the work is done before the event begins. During the event, you will only need to support those who have questions about the game and maybe a few disputes about points.
Is it necessary to use a mobile app to get the most gamification or can it be done just through a standard web portal?
A mobile app facilitates behaviors that you may want to reward but gamification can be done without one. Most smaller meetings and events won't require a mobile app, enabling you to set up behavior tracking on the back end and create a simple portal or page where attendees can instantly view any points earned. For RainFocus INSIGHT, our team tracked and displayed all mobile actions within the Attendee Portal as a responsive web page.
How can an individual see their points?
Points can be shown in the Attendee Portal on a card or on their own gamification page. We recommend including a list of actions and the points they equate to. Badges or trophies can also indicate earned points. For example, you might have a badge dedicated to those who attended a certain number of sessions.
Can the attribute to assigning points handle negative numbers for redeeming points?
Yes. Points can be added and taken away from attendees from the admin view of our platform.
Which gamification actions are auto-updated for an attendee and which require manual updates?
Every action that happens within the RainFocus Platform can be automated. Our development team continues to add new automated actions weekly. For the time being, some tasks (such as social posting) have to be awarded manually, so if you are anticipating tens of thousands of attendees you may want to limit actions that attendees can take to earn points.
Tune into the following sessions to learn how you can get the most out of RainFocus' gamification offering:
Quality vs. Quantity Leads through Gamification
Modernizing Meetings through Simple Gamification
---