Best Practices
How to Accommodate Growth in a Modernized Hybrid Event Ecosystem
17 May 2021 | Heather Pryor | 3 minutes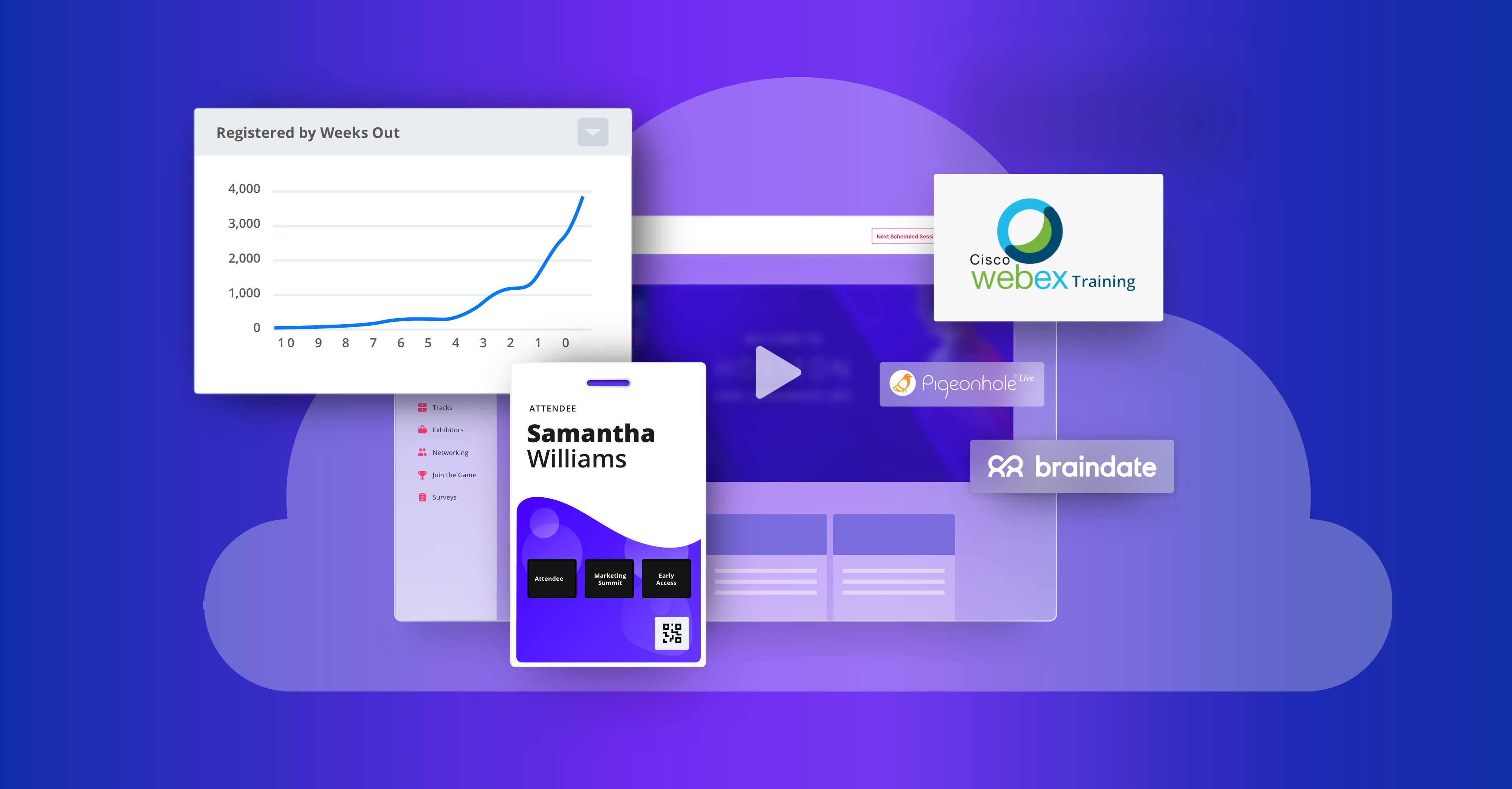 Throughout 2020 and 2021, RainFocus has been working with the world's largest and most innovative organizations to build the foundation for hybrid event scalability and success. By accomodating multiple audiences, we anticipate that hybrid events will have the potential to exceed the benchmarks set by virtual events. As organizations begin to plan for and implement hybrid events, we cannot help but reflect on the innovations that have led us to this point.
Here's how RainFocus has adapted to meet the needs of clients and attendees throughout 2020 and 2021:
Thinking Holistically About the Data Strategy
Before we begin implementation for an event, we identify which insights our customers want to get out of their events. With the introduction of virtual events, we took a more holistic approach to data strategy by asking clients which data points they wanted to measure and compare from virtual to physical and vice versa. As hybrid events emerge, we will continue to enable clients to view their data holistically to dial in the best attendee experiences possible.
Expanding Integrations
Along with the need for holistic data, event teams need to harness the multitude of insights that come from digital interactions. Immediately, our team began enhancing our large list of integrations to enable clients to share their virtual event data with their various stakeholders while delivering live, simulive, and on-demand sessions from one modern, fully optimized platform.
According to the 2021 Forrester Wave Report on B2B Marketing Events Management, "RainFocus boasts among the broadest list of out-of-the-box technology integrations, training, and support services, and native onsite production and rentals services, making it an all-in-one contender for hybrid events leadership when in-person returns."
Executing Load Testing
After receiving 4x the number of registrations for the first virtual conference of 2020, we decided it would be wise to perform routine load testing for every event. Taking the time to ensure that every event could handle a significantly larger audience than they had in previous years really paid off as RainFocus clients experienced flawless registration processes. ServiceNow's Senior Director of Strategic Events explained, "RainFocus did a ton of performance testing for us to make sure our event could scale for the highest demand, and it did."
By completing load testing for each event, we were also able to ensure the security of registrants' data. Clients need not fear losing any of their data as we have proven that our pre-established best-of-class security procedures will support all physical, virtual, and hybrid events.
Developing a Virtual Waiting Room
In tandem with load testing, our team set a new standard of having a virtual waiting room for registrants. Traditionally for in-person events, registrations could be queued to process overnight. But, with thousands of attendees registering at all hours worldwide, a waiting room holds registration data so as not to overload any of a client's backend systems — creating a smooth registration experience for attendees.
Becoming Cloud-Agnostic
With holistic, secure, and reliable data in check, the final element needed to accommodate growth was the ability to operate on any cloud. Working with IBM, our team developed the RainFocus platform to be cloud-agnostic, making it ideal for teams who hope to share and store data on their own cloud. In their recent case study titled, "Re-Thinking Marketing Events," IBM explained, "[Having] a scalable platform using IBM Cloud capabilities not only made a speedy transition to a virtual format possible but also provided novel opportunities for innovation."
Though our team accomplished a lot in the last two years, we are committed to working alongside customers to better the events industry. Read the complete story of IBM Think to learn more about the partnership between RainFocus and IBM and how the two companies are working together to establish the future of event success.
From RainFocus' Perspective:https://learning.rainfocus.com/one-solution-for-every-event
From IBM's Perspective: https://www.ibm.com/case-studies/rainfocus/
---