Event Data Measurement and ROI
Highlights from the State of Events Study 2021
29 Dec 2020 | Ashleigh Cook | 7 minutes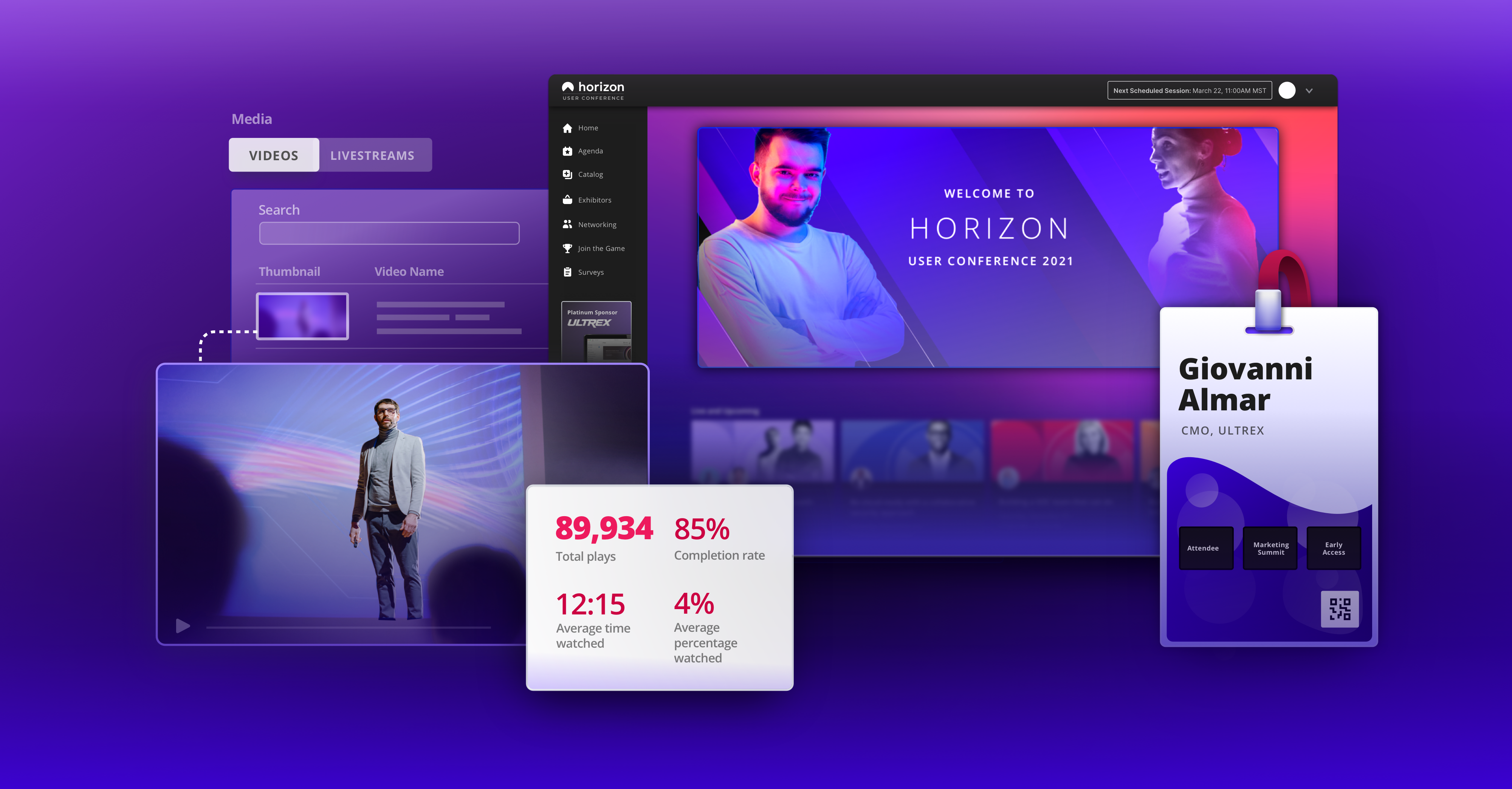 Recently, RainFocus and Impact Point Group conducted a study of the industry's premier events to uncover how organizations are approaching their event strategies for 2021. As event teams kick off the new year, we've put together this blog post with highlights of the survey results. As data geeks who are passionate about all things events, we revel in analyzing data to mine insights, tips, and tricks to help event organizers plan effectively.
About the State of Events Study 2021
The State of Events 2021 Study is a primary research study to uncover how enterprise organizations are approaching their event strategies for 2021. Respondents were asked about their experiences with virtual events, event plans and budgets for 2021, as well as other defining elements of their programs.
We will be combining these findings with benchmark data from the industry's premier events, which will be unveiled in a keynote presentation, Event Benchmarks and Strategies Powering Success in 2021, at RainFocus INSIGHT (January 19-21, 2021).
[Note: Our Design team will build out infographic-type images for the most pertinent findings as visual aid to support the data]
Demographics
RainFocus and Impact Point Group surveyed more than 50 enterprise organizations to understand how their events performed relative to expectations in 2020, successes/learnings from those events and how teams are applying these learnings to events in 2021.
Experience Type: 55.9% of the respondents manage business-to-business (B2B) events and experiences, 16.5% manage business-to-consumer (B2C) events and experiences, while the remainder manage a combination of B2B and B2C.
Vertical Representation: 51% of respondents are from Technology, 17% from Healthcare, 6% from Financial Services, while remaining respondents span Multi-Level Marketing firms, Media, Automotive, and others.
Employee Size: 34% of respondents are employed at firms with 10,001+ employees, 19% of respondents are employed at firms 5001-10,000, and 28% are from organizations with 1001-5000 employees.
Findings from the Study
Organizations made the pivot to virtual with mixed results. In 2020, many organizations made the switch to virtual events, but depending on their goals, experienced mixed results.

35.1% reported that their virtual events exceeded expectations
42.1% indicated that they met expectations
22.8% indicated that they had fallen short of expectations
Intended goals for the event have a large impact on these success metrics.
For instance, organizations with event objectives of broad reach may be seeing greater success as registration and views of virtual events are generally higher. Those focused on lead generation and sales acceleration, which require a deeper level of engagement, may find that their virtual events are falling short. Other factors impacting the success of virtual events include the technology platform performance and stability, investment in a high-end production or user experience, offering compelling and unique content and speakers, and the skills and expertise of their team in executing virtual events.
Expanded reach with virtual. Virtual exceeded expectations for many organizations due to the expanded reach they had achieved. According to RainFocus' 2020/2019 Global Event Management Survey And Benchmark, most free virtual events saw an uptick of 4-6x the number of registered attendees and the ability to reach audiences that were previously unknown, which was great for awareness. In fact, many indicated that they broke company records—raising their thought leadership, boosting brand awareness, gaining more leads, and adding more contacts to accounts by lowering or eliminating event fees than they could have gained with an expensive in-person conference. While many saw similar trends, others struggled with higher than expected attrition, inability to keep attendees' attention, and difficulties with tracking.
Lower engagement remains a top concern with virtual. According to respondents, the biggest risk factor for virtual events is lower engagement (38.6%), followed by technology failure (28.1%). Other perceived risks include the inability to provide sponsorship value, lower ROI, and loss of revenue. Many teams have seen a gap emerge in their end of funnel lead generation activities with tradeshow and industry or third party events failing to deliver the traffic in-person events once did.
Virtual has also limited the ability to create meaningful interpersonal connections that lead to deal acceleration. Meanwhile, audiences are fast-tiring of virtual events making it harder to capture their attention. Going forward many event teams are looking to solve this through more live-only interactions during their virtual events and exclusive sponsor engagements with smaller, higher-quality opted-in audiences.
Teams are eagerly anticipating the return to physical events. When asked if they were planning in-person events in 2021 (if permissible) 41.4% indicated Yes; 43.1% were undecided while 15.5% indicated that they were not planning in-person events for 2021. Aside from the variations and trepidation, volumes of feedback and data suggest most organizations plan on a safe return to physical events by mid-2021. While they may not draw the same 40,000 attendees they have traditionally, we estimate they will draw upwards of 65-85% of those numbers.
Physical events will re-emerge with a virtual dimension, ushering in a new events era. With uncertainty around vaccine timing and some good results with virtual, 76.2% of respondents indicated that they will incorporate a virtual component into their event, while 22% were undecided. 70.4% of respondents indicated they are planning for hybrid events. Many people are still viewing future events as a binary decision of virtual or physical experiences, but leading marketing teams realize it is now the optimal combination of the two that will attract and engage their target audiences. In fact, with the proper tuning personalized experiences not only get better, they become more efficient.
With augmented access leading up to a physical conference, you can now choose content to consume, add virtual meetings to your schedule digitally, plan who you'd like to meet with onsite, determine which sessions you'd like to consume in-person, and plan to return post-event to view sessions and engage exhibitors you couldn't get to onsite. Through the enhanced flexibility of the RainFocus Platform, marketing events now offer engaging personalized experiences with delivery environments that suit the preferences of every participant.
Tips and tricks to fight virtual fatigue. While organizations look to up the ante to balance what's "cool" with risk, organizations offered their own tips for combatting virtual fatigue.
Events budgets are expected to remain flat or decrease. 45.5% of teams are expecting event budgets to remain flat, while 34.5% expect a decrease headed into 2021. It's no surprise that the budget is dependent upon being able to prove ROI. While many organizations have seen a savings this year with the shift to virtual events, most realize the lack of in-person events have left gaps in their event portfolios when it comes to generating new leads, accelerating sales and training their customers and partners and sales teams. So while most are planning for short-term savings, many expect budgets to recover as in-person events resume.
The need to engage audiences virtually has demanded accelerating the event technology roadmap for many organizations, requiring a redirection of budget. While digital events cost less compared to their in-person counterparts, they are proving to be equally if not more taxing on the internal event teams. They occur more frequently, on shorter delivery timelines, and require different skill sets, causing many event teams to re-evaluate their talent and resourcing models as well as how they collaborate with other departments.
The Convergence of Events and Marketing Teams
Traditionally, demand and digital marketing teams have been responsible for the pre-event promotional and post-event follow-up activities. Events teams manage the high-impact experiences to attendees, speakers, and exhibitors—from registration to tear down. Due to unprecedented circumstances of this past year, events have gone fully virtual creating a powerful convergence of events and marketing—and that won't be changing any time soon.
In fact, 59.3% of survey respondents indicated that they expect their events and marketing teams will work more closely together in 2021. When it comes to the future of physical and hybrid, events and marketing are the new power couple for success. The opportunity to understand engagement in any setting (virtual, physical, and hybrid) and to design your event marketing strategy around that engagement will greatly accelerate this merger.
We will be releasing a comprehensive report of the findings and will feature these insights and more at RainFocus INSIGHT (January 19-21, 2020).
Interested in more of the findings? Sign up to receive the comprehensive report, which will be released in early February.
---