News From RainFocus
<strong>Learning, Excitement, and Connections: Highlights from RainFocus INSIGHT 2023</strong>
10 Feb 2023 | Heather Pryor | 4 minutes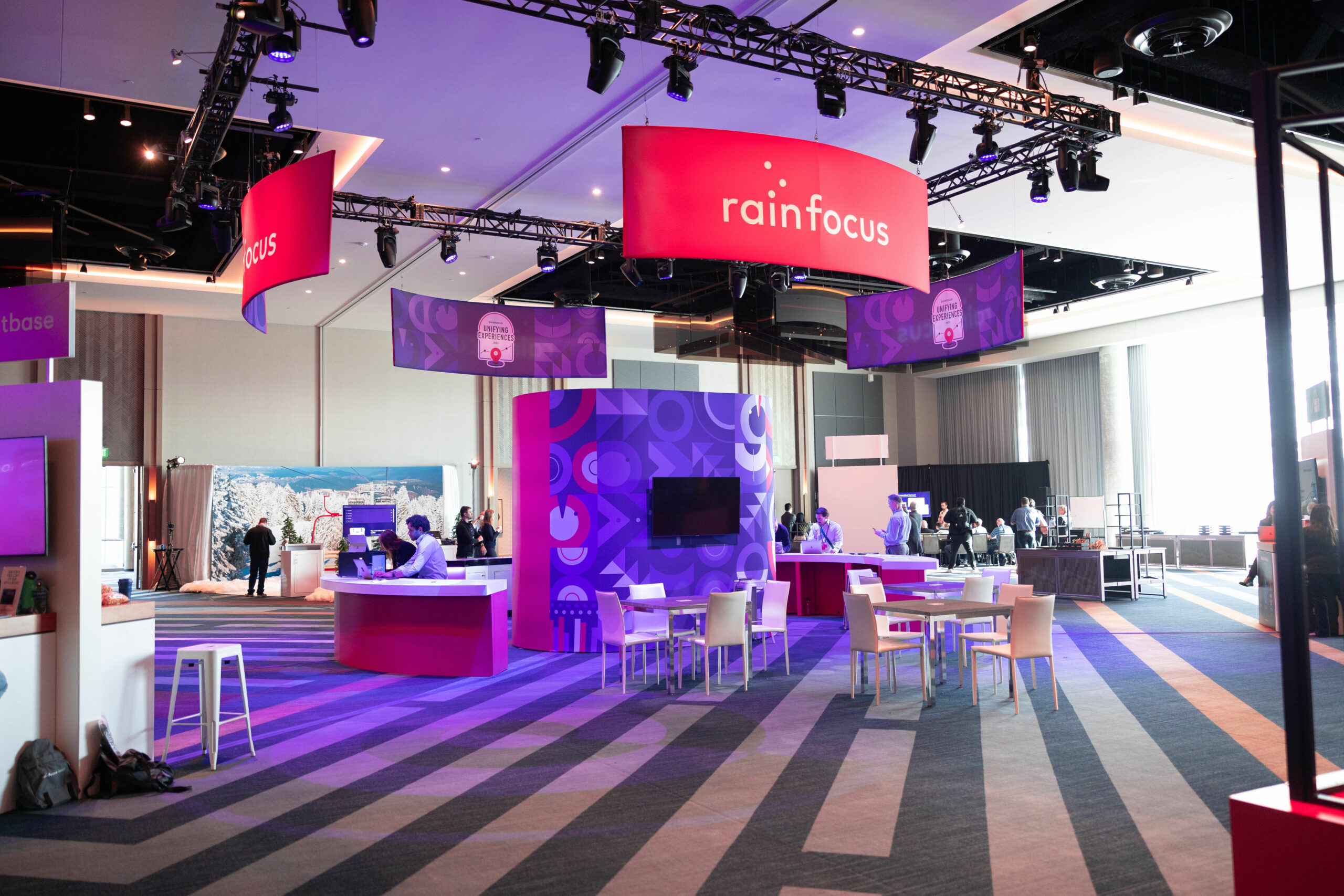 Ask anyone who joined us in person for RainFocus INSIGHT 2023 and they'll tell you how extraordinary it was to be together again! The three days in Salt Lake City were filled with reunions, industry conversations, and new relationships.
The conference also offered something for everyone: When asked what their favorite part of the conference was, no two attendees had the same answer. From networking opportunities with SMEs to hearing from other clients to inspiring mainstage presentations, INSIGHT 2023 provided a memorable experience for all (including attendees who joined virtually). 
Here are just a few of the conference highlights:
Groundbreaking Session Content
Throughout INSIGHT, we hosted both virtual and in-person sessions for our hybrid audience. Mainstage sessions (keynotes, panels, and emcee interviews) were streamed for our virtual audience, while expert and client-led breakouts and workshops were offered exclusively to those who joined us in Salt Lake City. One attendee commented, "I loved hearing from clients in the breakouts sessions about what they are doing with the platform." Popular breakout topics included integrations, lead retrieval, badging, and benchmarks.
RainFocus Academy Live
RainFocus Academy is our self-paced training program that provides users with best practices and technical skills to become a configuration expert. This year, we hosted RainFocus Academy Live — a lively three-session course on reporting, branding, and badge customization. These sessions were among our top-attended sessions for the event. Attendees said they loved the content and speakers!
An Open Event Layout
The event campus was laid out for convenience, with breakouts in the four corners, a networking lounge to the north, exhibitors in the center, and attendee activities to the south. Alongside the exhibitors, our own product experts showcased the power of RainFocus technologies — including our badge printers that attendees used to print badges with photos of their pets or other custom images.
Multiple Opportunities to Play to Win
Throughout the event, attendees had the opportunity to gain points in our INSIGHT game by attending sessions, visiting exhibitors, completing event surveys, and much more. In addition to traditional event gamification, we also had a partnership with VDA to offer attendees a photo booth and a one-of-a-kind ice fishing competition. Those who caught the most fish were tracked on a RainFocus leaderboard. We'll announce all game winners on Feb. 15th during our virtual Encore event.
A New and Inspiring Pitch Tank
This year, we held our first "pitch tank," session which allowed exhibitors to showcase their products and services to a panel of judges. Attendees joined in the judging using the mobile app to vote for winners. The contenders included VDA, Braindate, Eventbase, and Sorenson. VDA helped attendees contemplate their event design and its global footprint. Braindate demonstrated the power of event conversations. Eventex illustrated a world of mobile opportunities. Sorenson opened attendees' eyes to new ways to assist the hearing impaired. The pitch tank winner will also be announced during Encore.
RainFocus Innovation Awards
At the close of our second day, we hosted our annual Innovation Awards ceremony. Every year, the Innovation Awards celebrate teams who demonstrate forward thinking and excellence in their use of RainFocus' event technology. Here are this year's winners:
Esri — High Performer
Intel and Workday — Grow-Getter
Adobe — Innovator
Jamf — Data Nerd
Salesforce — Experience-Maker
RSA Conference — Pathfinder
ATWM — Partner of the Year
Congratulations to all! Winners of these awards are regarded as some of the most influential events and marketing teams in the industry. Visit rainfocus.com/innovation-awards to nominate your team for 2024.
A Thought-Provoking End to the Event
The conference concluded with a fireside chat between RainFocus CEO, JR Sherman and Alicia Tillman, chief revenue officer of Capitolis. Tillman inspired attendees with her customer experience first approach to event marketing. She posed the question, "How do you take customer learnings and apply them to every touchpoint of the customer lifecycle?" Read our latest blog post or watch the session to learn more. 
What's Next
If you missed the conference or just want to rewatch your watch sessions, we have plenty of videos. All keynote sessions are available on demand at rainfocusinsight.com. Some of our most popular breakout sessions will be recorded and made available online soon. Finally, be sure to join us February 15th for our virtual Encore event and stay tuned for more great content to come out of INSIGHT 2023.
---