Event Data Measurement and ROI
How to Execute a Winning Hybrid Event Portfolio with RainFocus Client Success
8 Jul 2021 | RainFocus | 3 minutes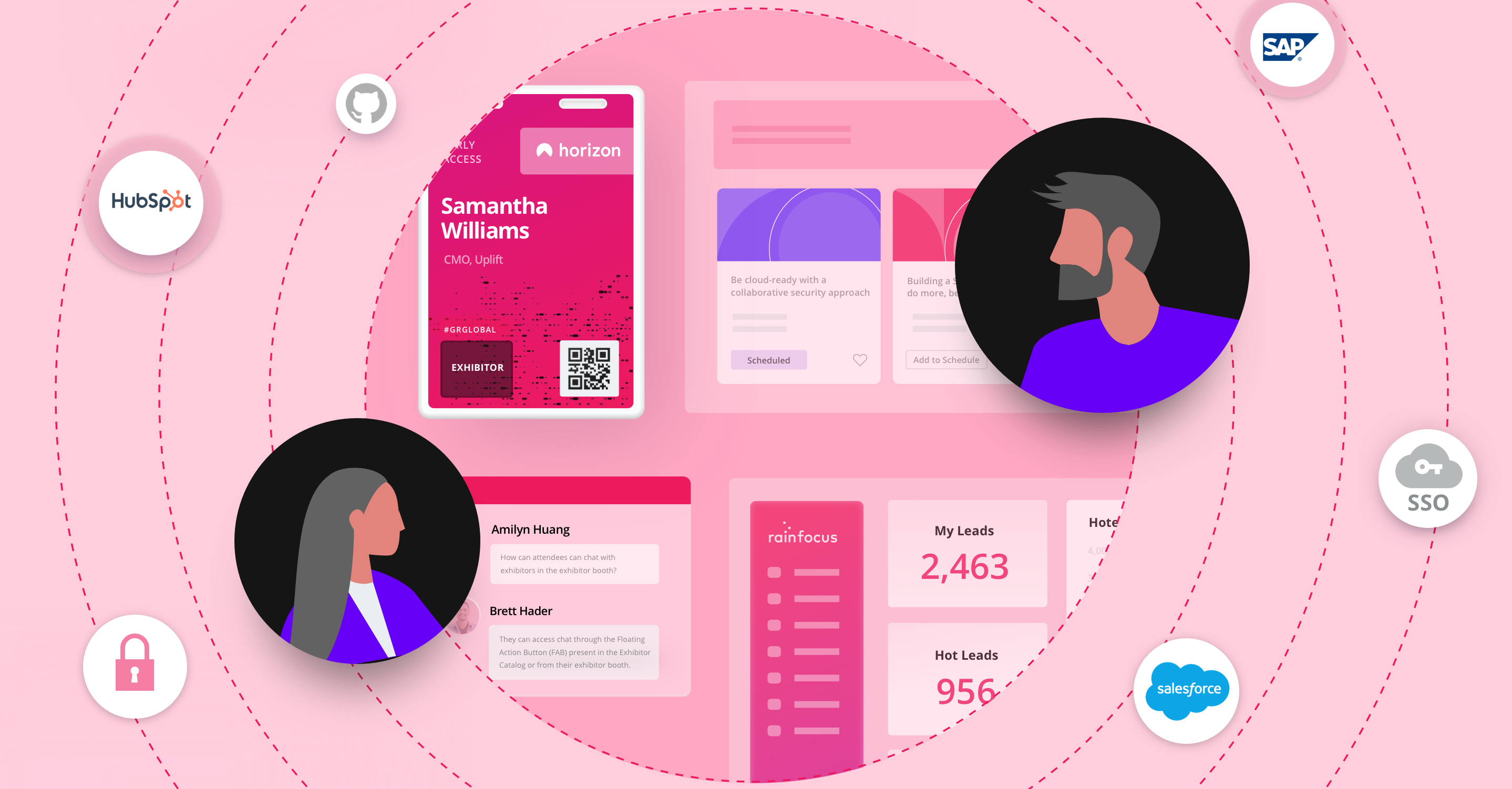 Hybrid is more than just event delivery. It is a comprehensive and unified event strategy that encompasses all events in your company portfolio. While a hybrid event could look like a blended in-person/virtual event, we see it more of a way for you to meet the needs of a larger number of attendees and gather the insights needed to meet your goals. Our hybrid strategy uses data from in-person and virtual events to accelerate customer and business value. To achieve hybrid success, RainFocus' Client Success team offers the help of several key advisors who engage in strategic collaboration, offer hands-on training, provide quick responses and supply actionable insights.
What makes a successful hybrid event portfolio?
Unified event data
RainFocus' technology allows you to have all of your event data in a single event platform. This source of unified data eliminates barriers and allows data to be connected throughout many other channels. Every touchpoint, interaction, and activity will be collected and stored in an easy-to-read dashboard.
Connected experiences that serve as touch points along the customer journey
With a unified source of truth, RainFocus allows you to visualize your entire customer journey from start to finish — enabling marketing and sales teams to use their most effective marketing channel to influence buying decisions in real-time.
Integrations with marketing and sales technology
RainFocus integrations can be used to connect event portfolio data with marketing and sales technology to drive better engagement, accelerate marketing conversions, increase sales productivity, and boost customer retention.
How does RainFocus' Client Success Team Help?
While planning a connected and successful hybrid event portfolio may seem daunting, RainFocus' experienced Client Success team is here to help. When clients join with RainFocus they gain the help of a Client Success Executive, a Technical Account Manager, and a Program Manager (when needed), as well as some additional resources. Our team is passionate about helping you achieve event success!
Client Success Executive (CSE)
Your CSE will partner with you to develop and execute your event portfolio plans, as well as stand as your advocate within RainFocus to ensure that you have all of the resources you need to be successful. Your CSE will also conduct regular executive business reviews to help identify event insights, trends, and metrics for success.
Technical Account Manager (TAM)
Your TAM will provide you with valuable technical guidance and data alignment across your entire event portfolio. Additionally, your TAM will demonstrate our platform best practices and showcase any new updates or features that will improve your ROI.
Program Manager
Your Program Manager will help provide alignment and coordination across your entire event portfolio by ensuring that processes and management remain consistent from event to event.
Additional Resources
Some additional resources will be available to you as you execute your event portfolio. These include a project manager, solution consultant, business intelligence team, and quality assurance team.
For more urgent issues, our Help Center and Client Care team will provide helpful guides, how-to questions, product-related solutions, and 24/7 support. Our RainFocus Academy is also available for additional training.
With years of experience planning both in-person and virtual events, RainFocus offers you the best tools to succeed with any hybrid event portfolio. RainFocus brings companies and customers together with all the tools they need to successfully deliver events from start to finish. You can see the complete picture from an integrated and simple event platform with data driven analytics and will always feel supported by our skilled team. Discover more about our client success team here.
---