Best Practices
How to Use Event Technology to Accommodate Different Time Zones
15 Jul 2020 | Heather Pryor | 2 minutes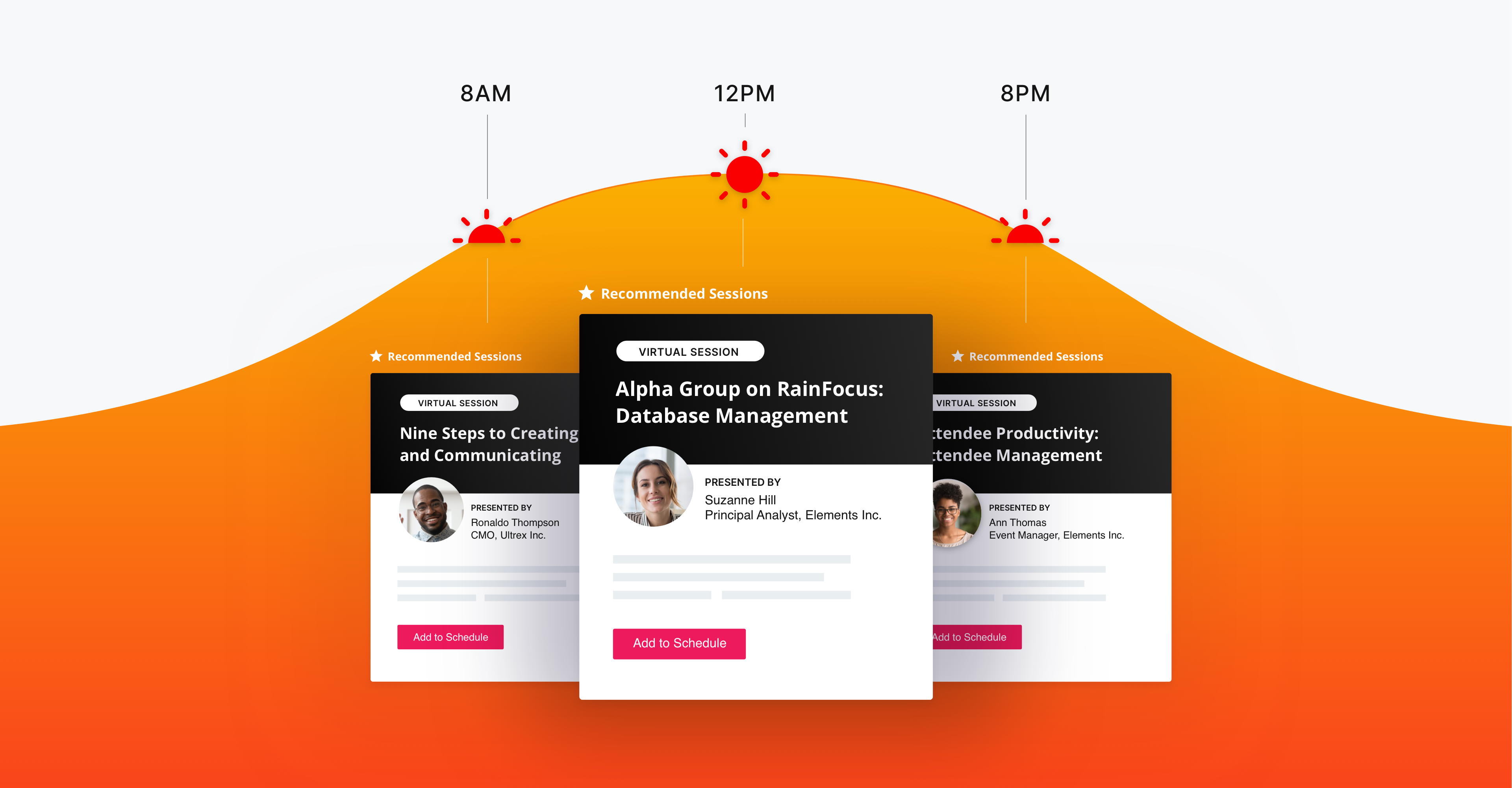 Having worked with 750k attendees and counting in the last three months alone, we have witnessed firsthand how hard it can be to deliver a virtual event across multiple time zones. Unfortunately, it's common for one group of attendees to feel completely left out of live sessions. Even if attendees add sessions to their calendars and set their alarms to wake up early in the morning, there are multiple distractions that could keep them from attending. With all of this in mind, here are a few ways that you can make the most of this tricky situation.
Create Targeted Agendas for Specific Time Zones
One of the best ways to help attendees get the most out of your events, regardless of the hour, is to plan their sessions for them. Recommend different sessions to attendees based on the time of day that they would like to view sessions. Mix in some live sessions along with your on-demand recommendations whenever possible to give attendees an opportunity to interact with other attendees.
Plan Live Sessions Strategically
Oftentimes, the people who most need your consideration are your speakers. As you are qualifying speakers, think of how they might fit into your international schedule. Lay out your sessions so that the speakers who are in different time zones can speak at an hour that is good for them. Finding diverse speakers from around the world will help you cater to more attendees.
Enhance Your On-Demand Videos
If some of your attendees can't make it to your live sessions, provide them with on-demand content that feels as in-person as possible. One way to do this is to create simulated conversations between speakers. In a simulated conversation, you should split up your speaker segments to 10 minutes or less to keep session energy going.
Optimize Your Session Catalog for Each Time Zone
Allow attendees to select their time zone from the session catalog, or better yet automate it for them. If you don't have the tools to enable local time selection consider writing in multiple time zones for each of your sessions (PT, CST, EST, etc.). With RainFocus, you can choose to show attendees both their local time zone and the event time zone simultaneously from the Session Catalog or from their Targeted Agendas.
Don't Forget About Emails
Leverage your event's time zone as a keyword in emails, pages, and other places where keywords are supported. With RainFocus, using a keyword lets you create content and reference the time zone automatically.
Managing time zones is just one small piece of the virtual puzzle. Find out how to maximize your virtual events from start to finish with our Complete Virtual Event Handbook.
---