Best Practices
Hybrid Gamification Drives Engagement For All Event Attendees
16 Aug 2021 | Heather Pryor | 3 minutes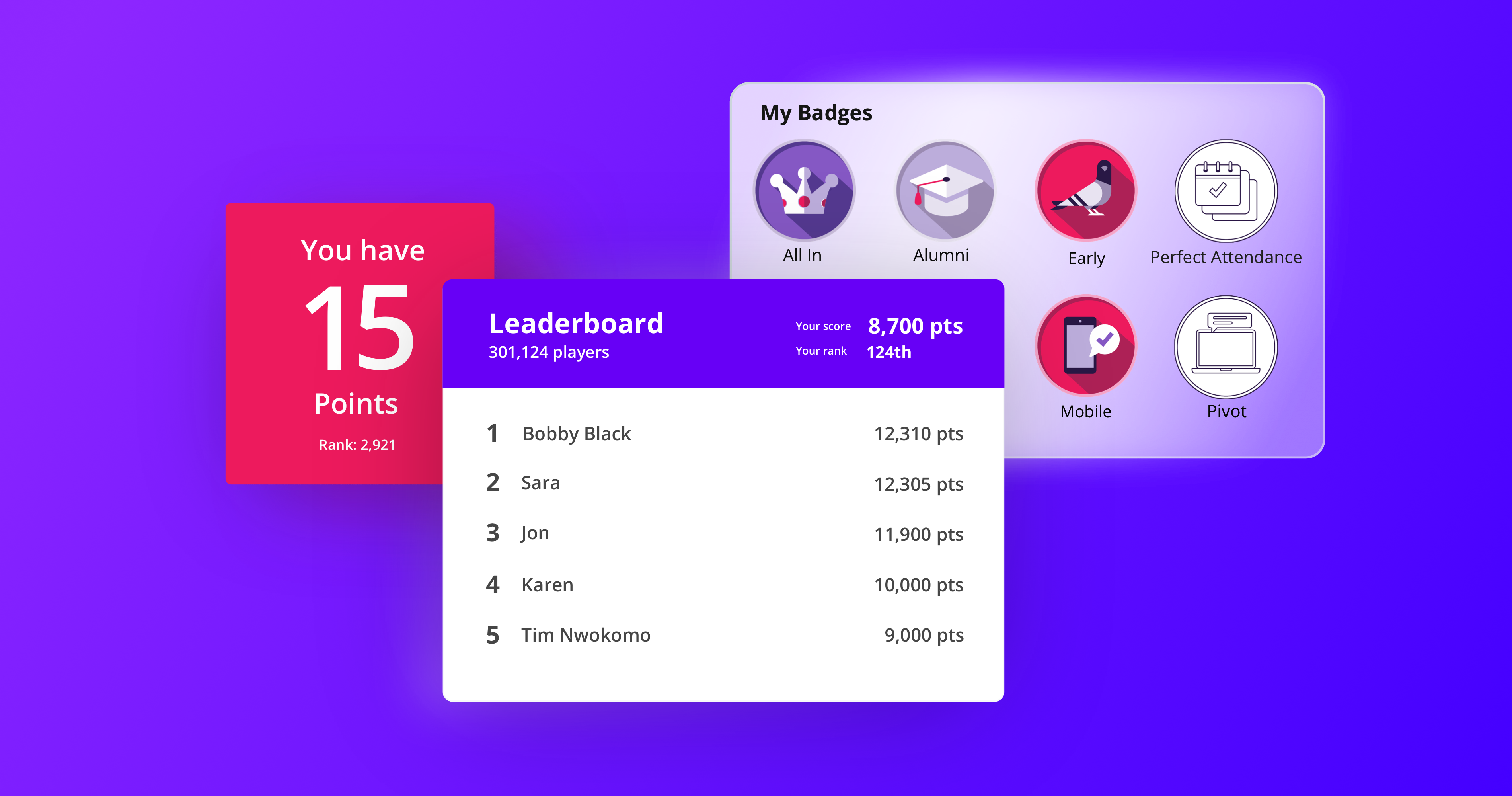 A great way to keep your attendees engaged throughout your event is gamification. For hybrid events, make sure to accommodate all attendees through hybrid gamification. This type of gamification helps create more memorable experiences for attendees and enables networking. In this post, we'll discuss the benefits and purposes of hybrid games.
Connection Through Hybrid Gamification
When deciding on games and activities for your event, consider hybrid experiences as alternatives to exclusively virtual or in-person games. Hybrid gamification provides attendees, whether in-person or remote, the opportunity to connect and enjoy a high level of engagement.
Creating an Engaging Experience
The objective of hybrid gamification is to create a similar experience for all attendees. Use a gamification strategy that is the best fit for each event. When creating an identical hybrid gamification experience is not possible with a particular game, aim to engage both audience sets with "different yet connected" experiences. The table below summarizes different types of games that work well as either a "different yet connected" experience or an identical experience.
Hybrid Game Descriptions
To connect in-person and virtual audiences, mobile devices are often the solution. For any specific hybrid game, allowing in-person attendees to interact with your virtual audience via mobile allows for greater communication. Here are some ideas for connecting different virtual and in-person gamification experiences via a mobile app:
Event trivia game show. The in-person team members serve as the spokespeople for their team, but they can only answer questions once the whole team, including virtual attendees, have reached a consensus. Another option is to use the virtual audience as a lifeline to help with specific questions. Offer prizes to the winning teams to encourage participation.
Scavenger hunts. With this game, the in-person team members move around to locations as instructed by their virtual teammates. Meanwhile, the virtual teammates try to solve clues as they direct the in-person team members to next steps and hints.
Passports. Virtual teams might not feel the need to visit as many exhibitor booths or sessions as someone attending in person. Encourage more visits by issuing digital "passports" with achievement badges. Create a leaderboard so that all participants can see how they rank against the competition
Hybrid Gamification Rewards
When offering rewards to attendees, make sure to offer valuable rewards to everyone, even if the awards themselves are not the same for in-person and virtual attendees. The easiest way to determine reward recipients is to use a digital points system. For example, with RainFocus, points can be assigned to nearly any action, including attending a session, visiting an exhibitor booth, scheduling a meeting, and more.The digital points can be redeemed for rewards, giving options to participants and increasing motivation.
Takeaways
As the world becomes more connected through virtual and hybrid experiences, it is essential to provide your attendees with a way to connect and engage with each other. Hybrid gamification is a great way to influence customer and prospect behavior as part of your overall business strategy. Using RainFocus integrations, events teams can share the rich behavioral data they gather from their hybrid event games with their marketing and sales teams — enabling them to make informed decisions that will drive business growth.
To learn more about the Future of Hybrid Engagement, check out our guide here.
---