Event Planning and Marketing
Introducing RainFocus Academy: A Self-Paced Training and Certification Program
8 Oct 2020 | Heather Pryor | 2 minutes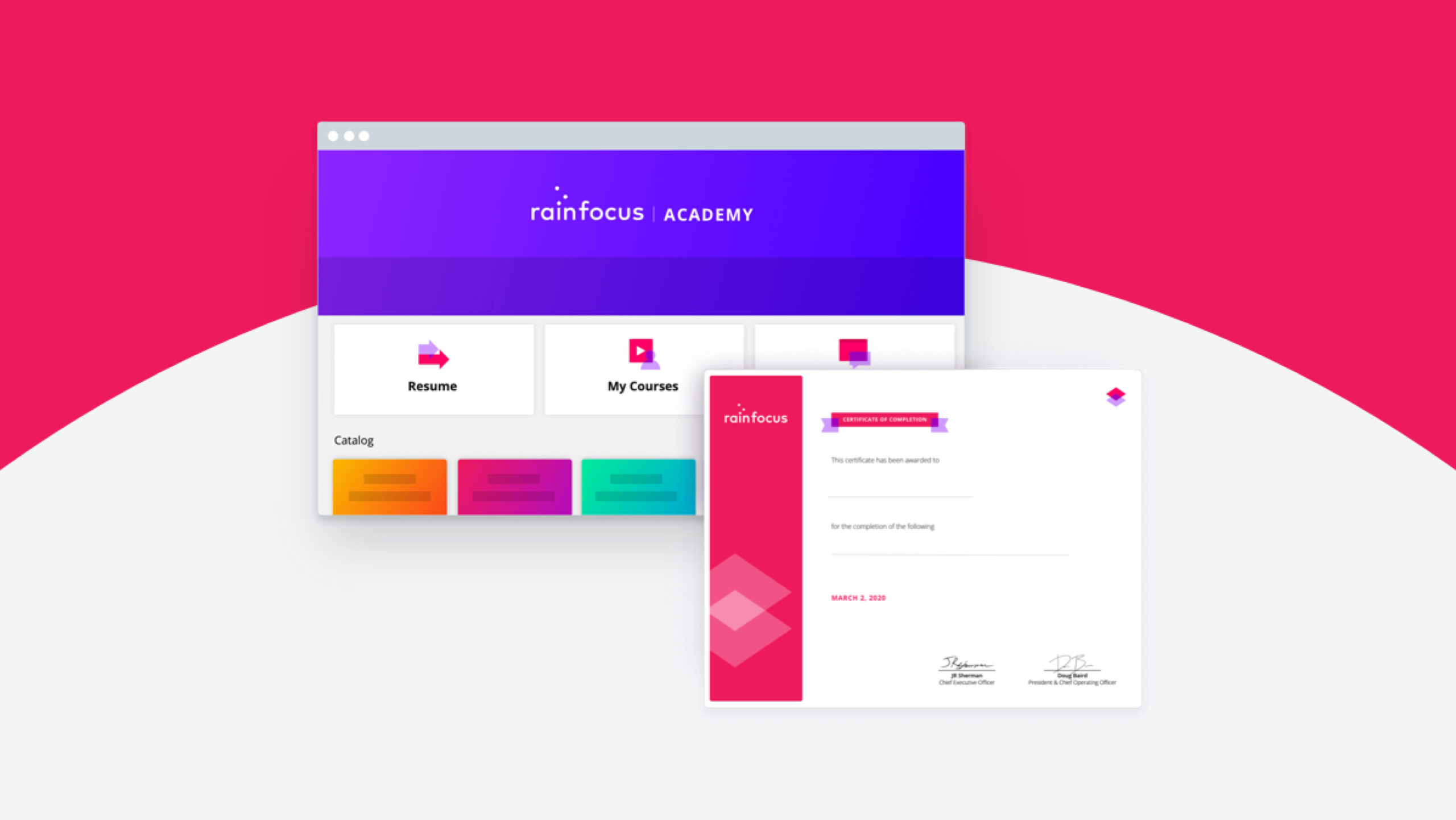 At RainFocus, we care about and invest in the success of our clients. To help our clients learn the ins and outs of our platform, we've created the RainFocus Academy. With so many new and exciting product launches, the RainFocus Academy will become a valuable training resource to help clients get the most out of the RainFocus Platform.
What exactly is the RainFocus Academy?
The RainFocus Academy is a self-paced training program that empowers you by teaching
you the technical skills needed to become a configuration expert of the RainFocus Platform. The academy includes over 60 training courses and certifications on RainFocus' key modules—10 of which were added just this last quarter. Each course provides you with in-depth instruction and module-specific best practices. With automatic updates, you'll always have access to teachings about the latest improvements to the RainFocus Platform.
Why Should I Enroll?
Along with gaining new skills, enrolling in the academy will enable you to increase the efficiency of your configurations and event setup. Spend less time communicating back and forth with RainFocus and start feeling confident in your own ability to build, manage, and optimize your event. RainFocus Academy has been put together by our industry-leading experts to include everything you need to know from ideation up to post-event analysis.
How Do I Become Certified?
Becoming certified is as simple as choosing a RainFocus module you would like to become certified in and completing guided instructions. For every module certification, you will be given a sandbox environment to successfully complete the module setup. When you are finished, a RainFocus expert will review your work, provide feedback, and certify you. Upon completion, you will be awarded the RainFocus Certification and given badges for LinkedIn recognition.
If you are a client or partner and would like to learn more about RainFocus Academy, click here. If you are not a current client or partner but are interested in learning more, request a demo here.
---