Event Management
Using Principles of Audience Segmentation to Elevate Customer and Prospect Experiences
4 Oct 2023 | Heather Pryor | 4 minutes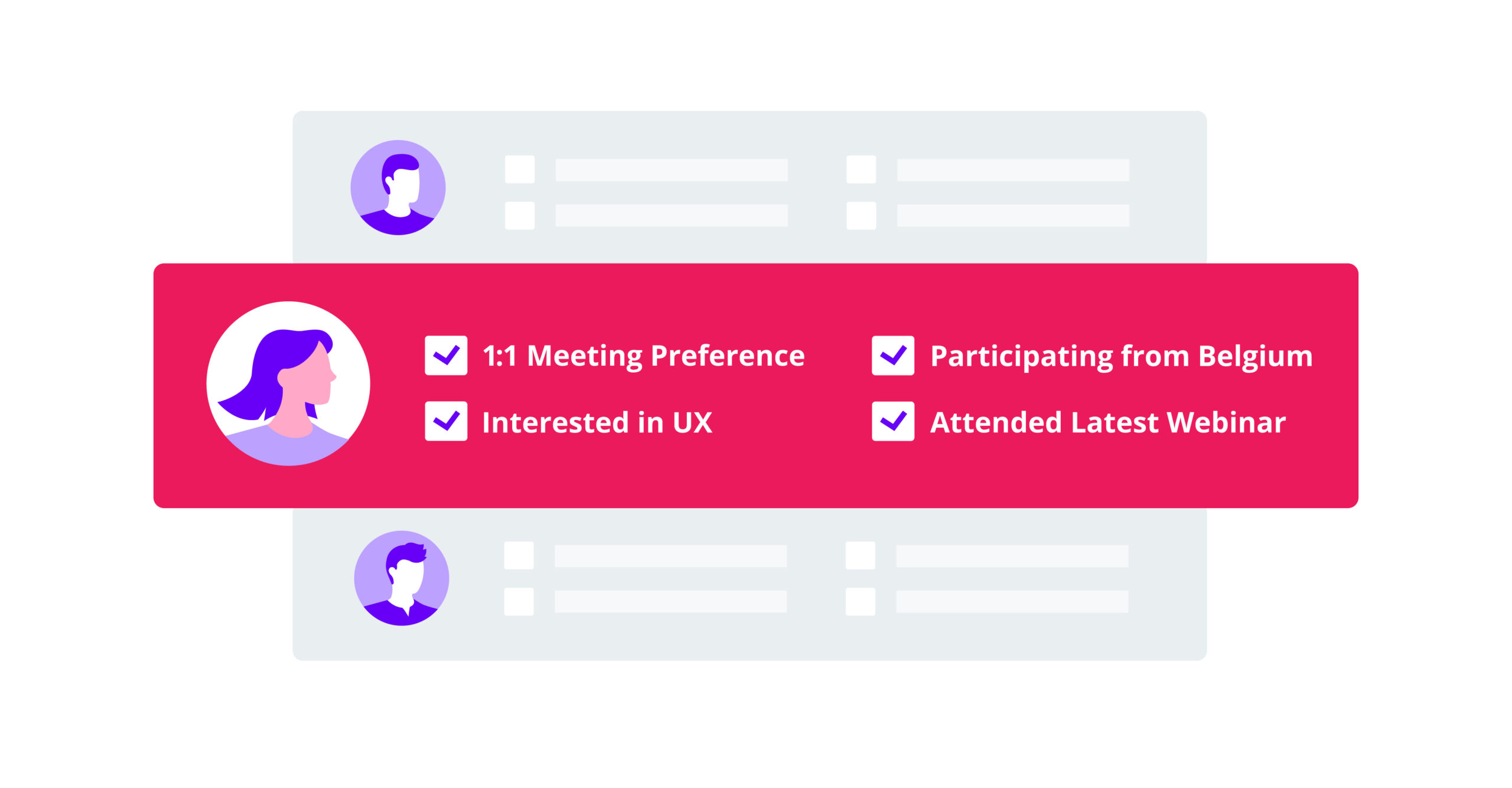 With numerous platforms at their disposal, marketers have been able to segment audiences for decades. For event teams, on the other hand, the tools needed to adequately segment attendees have only been around for a few years. Having worked on some of the largest enterprise events, we've learned several best practices for event segmentation. In this post we'll share what we've learned, but first, a little bit of background.
Types of Audience Segmentation
In general, audience segmentation is split into four approaches. Geographic, behavioral, demographic, and psychographic. Each of these different approaches adds another layer of personalization to recommendations — making those recommendations much more impactful.
The Geographic Approach
Perhaps the most common way that event teams segment content recommendations is by region or delivery type. This approach is used when marketing roadshow events, meetings, or hybrid events. The recommendations may be translated based on region or include addresses to unique venues. For hybrid events, audiences are segmented based on whether or not they will attend in person or online. Though it's a start, geographic segmentation is often more of a necessity than a strategy. Adding another layer of segmentation can increase engagement tenfold.
The Demographic Approach
Another common form of segmentation is the demographic approach. Event teams may send session or activity recommendations based on an attendees' job title, role, industry, certification level, or company. When building targeted groups consider which attendees are customers or partners versus those that are currently in your pipeline. Identify VIPs and create specific agendas for them. Attendee demographics are easily discovered during the registration process making them ideal for audience segmentation.
The Behavioral Approach
One of the most powerful segmentation techniques is looking at attendees' past behaviors. Evaluate which attendees attended past events or webinars. Divide those from others to provide them with new or more advanced content. Those who are new to your event may benefit from content that was previously shared. Another behavioral data set to look at is content consumption. Which attendees have interacted with your marketing content? What are trending topics they've shown interest in? Which marketing emails had the highest engagement? Although sourcing these trends might pose a bit more challenging, they will serve as inspiration for crafting more valuable recommendations that resonate better with target audiences.
The Psychographic Approach
Rather than make an educated guess, you could simply ask attendees about their interests, personality, or motivations during registration. Using this psychographic approach is an excellent method for identifying the specific interests of your attendees, both their most and least favored topics. Based on attendees' responses, form interest groups to target throughout the event. Segmenting attendees into interest groups not only encourages session participation but also supports easy relationship building.

Oftentimes these approaches are combined when marketing events. In this post, we'll focus on two segments: prospects and customers. These two groups can easily be broken down into smaller groups based on past behaviors, interests, or geographies. Once you've selected the grouping that makes the most sense, apply these best practices:
Engaging Customers
When marketing to your customers there are typically two goals. First, to upsell and second, to drive retention. With these goals in mind, your recommended event content should provide customers with a deeper understanding of the value of your products and services. New product sessions, meetings with product owners, and product-focused group sessions are all great ways to demonstrate that value.
Knowing how to reach customers is just as important as what you recommend. Whether it's a customer newsletter, a dedicated email, or a personalized invite from your client success team, email marketing is a great way to promote event content to customers. Following your event, send a survey to keep customers engaged. Share customers' behavioral data with account owners to inspire conversations that may lead to upsells.
Converting Prospects
For prospects, the primary goal is converting prospects into customers. In order to achieve this, recommend content that communicates the overarching value of your products. These sessions might include captivating keynotes, informative product demonstrations, enlightening panel discussions, or client case studies. Encourage attendees to engage with your sales team during dedicated networking times. By recommending content in advance, you're laying the groundwork for your sales and marketing team.
Consider boosting prospect attendance by offering and promoting pre-paid tickets. Collaborate with your sales team to send tailored invitations to prospects. Personalized invites let prospects know who to network with at your event and demonstrate proactive catering to their interests and needs.
Post-event engagement with the sales team is equally important to converting prospects into valued customers. Following the event, it's recommended to have your sales team reach out right away. This follow-up serves as an opportunity to express gratitude for their attendance, recap the valuable insights they gained, and, most importantly, to discuss next steps. This approach significantly increases the likelihood that a prospect will convert post event.
When marketing your event, mastering audience segmentation is the key to unlocking unparalleled engagement and conversion. With geographic, demographic, behavioral, and psychographic insights, you can recommend content that will resonate, convert, and inspire attendees. Whether you're seeking to teach eager customers more about your products or introduce prospects to your brand, the art of segmentation will provide a more personalized experience. RainFocus makes audience segmentation easy with countless attributes that are applied across an entire event portfolio.
Learn more by visiting https://rainfocus.com/personalized-engagement/.
---