Event Data Measurement and ROI
Quarterly Product Webinar Recap – Q4 2020
21 Oct 2020 | Heather Pryor | 3 minutes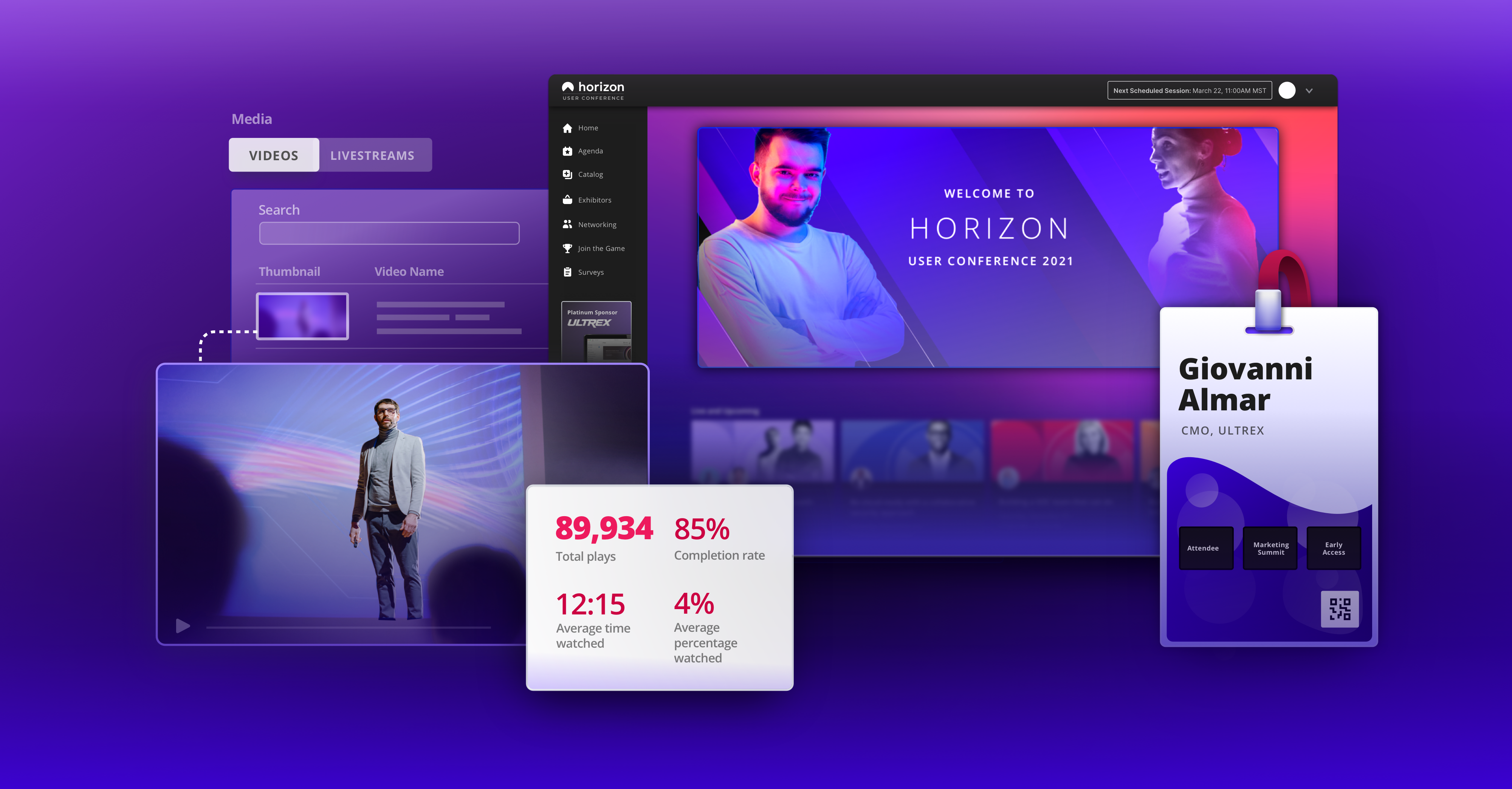 Each quarter, we conduct a product webinar to update our clients about the enhancements we've made to better serve their event needs. Here are a few of the product improvements that we've made this past quarter:
Virtual Delivery Enhancements
This past quarter, we made several enhancements to our platform to better accommodate your needs for your virtual events. Whether your sessions are live, simulive, or on-demand, the following product enhancements will enable you to provide more value to clients, attendees, and exhibitors:
Click tracking—Empowers you to track engagement from the catalog, calendar, targeted agendas, or virtual booths.
Moderated Q&A—Gives you the ability to assign session moderators to accept and respond to attendee questions.
Embedded session video—Keeps attendees on the same page as they engage with video content to provide a consistent experience.
Exhibitor chat—Allows attendees to connect and chat directly with exhibitors of their choice and enables exhibitors to easily manage these chats.
Enhanced lead capture—Provides exhibitors with more leads, thus increasing the value of your event.
Virtual Event Benchmarks
Additionally, RainFocus has provided virtual experiences for over 2 million attendees this year alone. With the data and trends we've gathered, we are partnering with Impact Point Group to conduct a State of Events 2021 study. The study will provide event professionals with best practices from industry leaders—and we could use your input. Click here to complete our State of Events 2021 survey.
This study will help you evaluate the following:
Know how your event compares to the elite events in the industry
Track your performance over time
Maintain a core set of common metrics across events
Data definitions will be provided for each metric and normalized across all virtual events
Page Builder Enhancements
One of the bigger foundational projects that we discussed in the quarterly product webinar was a way for you to design branded portals and pages with ease—no coding required. Our enhanced Page Builder allows you to configure unique user experiences and smart recommendations that will encourage attendees, speakers, and exhibitors to interact with others and complete tasks.
Working Report Enhancements
Many clients are already able to manage working reports on their own. This quarter we've made it easier than ever to configure and edit working reports with a redesigned and streamlined user interface. The updated interface enables more users to utilize Report Builder reports instead of SQL, empowering them to create working reports from start to finish.
Working report enhancements can be applied to:
Attendee nominations
Attendee package approvals
Call for papers
Speaker nominations
Session voting and approval
Copy editing
Exhibitor Approvals
And more!
We are continually seeking to improve our user and attendee experiences. In the coming months, we will be adding several new features that will further simplify virtual event setup and registration. We will also be focusing on enhancing the virtual booth to deliver even more value to exhibitors. Because virtual events are growing so rapidly, we will continue to ensure that our platform can scale for large demand. To complete the virtual experience, we are seeking to make gamification less of a one-size-fits-all solution and incorporate more flexibility into game configuration.
"I wouldn't consider going virtual a pivot," explained our Founder and President, Doug Baird. "Really, all we are doing is leveraging the existing flexibility of our platform to deliver a new, unique digital experience. It's what we were built for, and it's what we always do."
---