Event Data Measurement and ROI
RainFocus Receives Highest Current Offering Score in The Forrester Wave™ Marketing Event Management Solutions Report
8 Mar 2021 | Ashleigh Cook | 4 minutes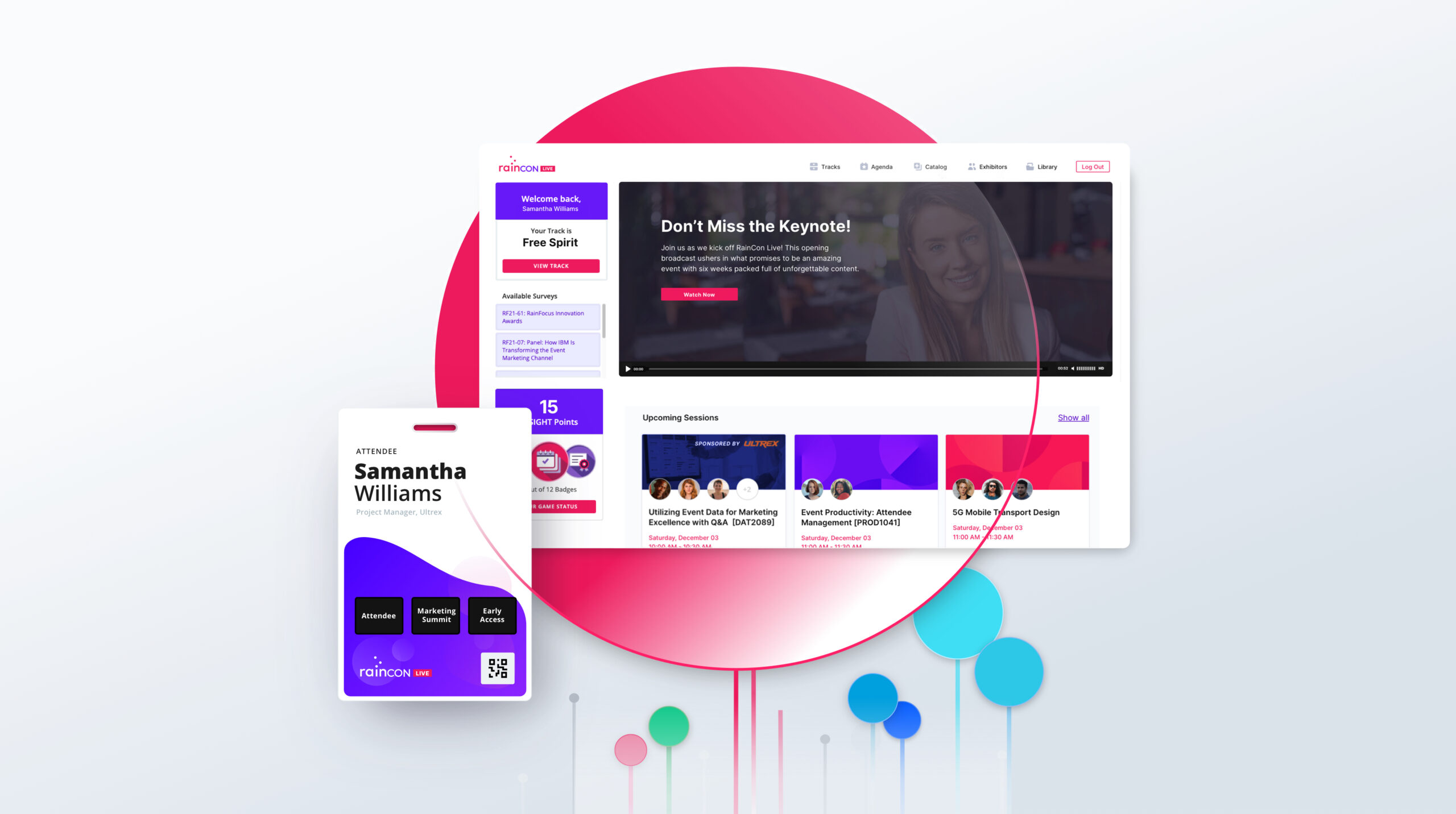 Today, RainFocus was listed as a Strong Performer in The Forrester Wave™: B2B Marketing Events Management Solutions, Q1 2021. We believe the strength of the RainFocus Platform is demonstrated by its highest-ranked current offering category score. The Forrester report states, "RainFocus' capabilities for agenda management, session engagement, nonspeaker content sharing, lead management, event data management, and communications stand apart in this market."
Delivery, Management, and Marketing in One
To determine each solution's ranking, the Forrester report evaluated each platform on their current offering, market presence, and strategy. The report gave RainFocus' the highest-ranked current offering category score with the highest possible scores in the following criteria:
Video or content delivery? Our take:
Whether live, simulive, or on-demand, RainFocus enables event teams to deliver any number of sessions simultaneously without error. Additionally, speakers can offer resources such as slide decks, worksheets, and collateral alongside the session to support audience engagement.
Event Registration and management. Our take:
RainFocus fuels registration with powerful personalization and segmentation tools that guide attendees to their ideal experiences. Drag-and-drop workflows capture unlimited interests, preferences, and marketing insights, in any desired order, to automatically route attendees to the right experiences, discounts/payments, hotel options, and payment collection.
Session engagement. Our take:
With RainFocus, event teams can incorporate live chat, reactions, polling, and other forms of engagement into their digital sessions—and measure that engagement with ease.
Attendee engagement. Our take:
From segmented registration to exclusive 1:1 meetings, sessions, and training, teams can prescribe and automate personalization at every step of the attendee journey for both online and offline experiences. In addition, RainFocus provides event teams a holistic view of attendee actions while empowering them to maximize engagement.
Training and support. Our take:
RainFocus' consultative model provides clients implementation support, general and solution-based training, and empowers them to self-administer. RainFocus Academy, a self-paced certification program, provides hands-on exercises to teach clients the technical skills needed to execute flawlessly on the platform.
Production/rental services. Our take:
RainFocus offers best-in-class services to support day-of-show experiences and supplies all of the onsite technology and tools that event teams need to check attendees into the event, supply exhibitors with leads, and gather attendee insights.
Lead management. Our take:
With RainFocus lead management, exhibitors can easily identify the highest quality leads and then share those leads instantly with their sales and marketing teams to accelerate campaigns, qualification, and sales conversions.
Event communications. Our take:
RainFocus streamlines attendee, speaker, and exhibitor communications pre-, during, and post-event—reducing the need for countless spreadsheets, overwhelming emails, and constant reminders.
Integrations Our take:
According to the report, "[RainFocus] boasts among the broadest list of out-of-the-box technology integrations…" Our take: RainFocus' integrations enable teams to build their ideal virtual experience without jeopardizing years' worth of valuable insights from physical events. The platform's robust and powerful API framework allows for deep, real-time, and bi-directional integrations with marketing and business systems—offering stakeholders a shared view of success.
Proven Success
For several years, RainFocus has been the platform of choice for the world's leading brands powering the most complex and modern event portfolios and business requirements. In 2020, we enhanced our platform to equip event teams with the most advanced offering for hybrid event management.
RainFocus' success in 2020 is evident with these top performance indicators:
380% Growth in Events
3.2M+ Business Users
Localized experiences across 165+ Countries
218% user growth
99.99+% Uptime
6M+ Session Engagements
RainFocus is designed to bring together all audiences, virtually and physically, for seminars to massive conferences in one easy-to-use, data-rich, and fully-integrated platform. JR Sherman notes, "With this highly intentional, yet flexible system, RainFocus aims to provide options and packages—rather than just a list of features—that allow clients to deploy immersive and integrated virtual, hybrid, and on-demand experiences with ease. The end goal is to enable clients to maximize their hybrid event portfolios by driving attendance, engagement, and satisfaction across all touchpoints of the customer lifecycle."
At RainFocus we are constantly evolving to meet customer and partner needs and empowering clients to do the same in delivering unparalleled experiences for attendees, exhibitors, and speakers at their world-class events. We focus every dollar on driving the evolution of this industry through strategy and roadmap collaboration with the leading global brands and innovators.
Download the full report here or request a demo to discover why RainFocus is quickly becoming the most sought-after event management solution.
---