News From RainFocus
Reflecting on the Events Industry Evolution: 10 Years of RainFocus
10 Oct 2023 | Heather Pryor | 5 minutes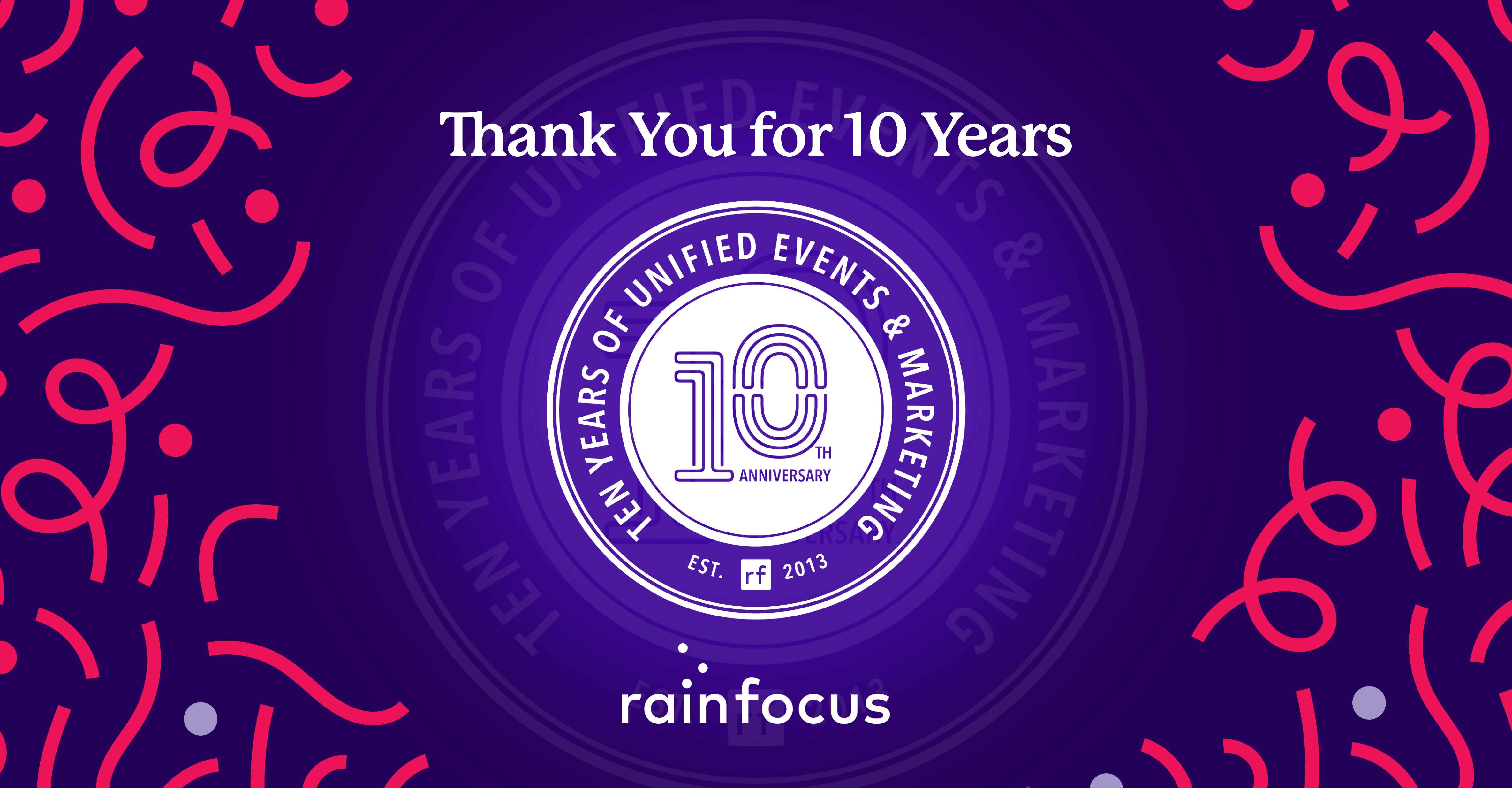 It's now been 10 years since RainFocus was launched from a small basement office. Since then, we've gone from delivering our first flagship events to powering entire event portfolios for the world's most innovative enterprise companies.
Although the event industry has experienced many changes in the past decade, we have committed to our core mission of orchestrating the events channel within marketing. Here are just a few of the pivotal moments in RainFocus history that led us to where we are now — and what we've learned.
Breaking the Cycle of Siloed Events
Before RainFocus launched, event teams struggled to deliver events with pieced-together systems. They also often provided only minimal data, making it nearly impossible for teams to demonstrate ROI or track improvement from one event to the next. Knowing that there had to be a better way, our founders built a single platform to unify event data and boost business performance.
Fun fact: The "Rain" in "RainFocus" comes from the idea of a cloud being composed of event data. As founder Doug Baird once explained, "At the time that we were deciding on a name, there was a lack of attention given to event data and the impact it has on accelerating customers through the buyer journey. The addition of 'Focus' to the name specifically to address this gap."
We delivered our first event, Oracle OpenWorld, in September 2016. Oracle needed a platform that could deliver everything, including registration, check-in and badging, session access, exhibitor management, content management, lead scanning, and reporting. OpenWorld 2016 was a huge success, and Oracle was even able to copy data from the conference into their other events. Ultimately, they could execute far more events with unprecedented efficiency.
As the industry noticed Oracle's success, RainFocus quickly gained more customers. By the end of 2018, we had already delivered our 100th event. The more events we executed, the more the benefits of a single event solution were clear. Clients saved time, reduced errors, offered consistent attendee experiences, and delivered more impactful events throughout their portfolio.
Key takeaway: Success begins with consolidated event technology.
The Virtual Metamorphosis
RainFocus' trajectory was strong when the COVID-19 pandemic struck, forcing event teams to cancel, pivot, or postpone their events. While many other event technology vendors faltered, our flexible platform allowed us to quickly pivot customers' in-person experiences to virtual experiences. Despite the uncertainty, we maintained our entire customer base by communicating often and working together.
Our success during the pandemic came from our innovative team members, who were all quick to think of new ways to the RainFocus platform for virtual delivery. That year, we were awarded the gold Stevie award for Best Event Management Platform, and RainFocus ranked number 1,549 on the annual Inc. 5000 list.
During this time, event teams also began working more closely with their digital marketing teams, relying on their expertise to help deliver virtual events. This shift started a new era of unified marketing and events — which would only become more important.
Key takeaway: Flexibility is the key to handling change and uncertainty.
Continued Experimentation and Innovation
The shift to virtual events marked a new wave of creative strategies. Event teams experimented with variations of live, hybrid, and on-demand content, inspired by consumer streaming providers like Netflix. At RainFocus, we enhanced our attendee interface to create a more intuitive virtual experience. This, combined with our gamification and personalization capabilities, proved to be essential for engaging digital audiences.
To recreate tangible experiences found at in-person events, several of our clients sent physical items to their virtual attendees. Many got creative, like the company that sent wine samples to VIP attendees for a digital wine tasting series during the event. These efforts were well-received by attendees looking to connect and experience memorable virtual experiences.
For hybrid experiences, we saw an increased focus on mobile engagement and launched our mobile app. As events returned to in-person settings, some clients used attendees' mobile devices to manage on-site health protocols, and many turned to mobile to connect their virtual and in-person audiences through chat, polling, and Q&A.
In September 2021, RainFocus marked a new era of growth with a Series C funding round led by KKR and existing investor JMI Equity. This allowed us to expand our team and further the innovation of our platform and services.
Key takeaway: Virtual events can be just as engaging as in-person events.
Unifying Events and Marketing
More recently, marketing teams have been forced to contend with the end of cookies, cutting off a valuable source of customer data. The challenge is that organizations must seek out new ways to capture customer data. But the good news is marketers already have a valuable source of zero-party and first-party data at their disposal — their event channel.
At the beginning of this year, we announced our exciting new partnership with Adobe. As a platinum partner in the Adobe Partner Program, we work closely with Adobe to elevate the customer journey. Together, we address the discontinuation of cookies head on by integrating RainFocus' rich behavioral insights with Adobe's world-class marketing technologies. Of course, RainFocus also integrates with other marketing automation and customer relationship management platforms to ensure customers can access their event data — regardless of the tools they are used to using.
Key takeaway: Now is the time for events and marketing teams to rely on each other.
These last 10 years have taught us so much about our platform and about event success. Now listed as a Leader in The Forrester Wave™: B2B Event Management Technology, Q1 2023 Report, RainFocus is regarded as one of the top platforms for event professionals. Learn more about our platform and the power of unified events and marketing here.
---