Conversations
"This Is Such an Opportunity to Learn": The CMO and Events Imperative for the Pandemic Era – and Beyond
19 Nov 2021 | Jessica F. Lillian | 4 minutes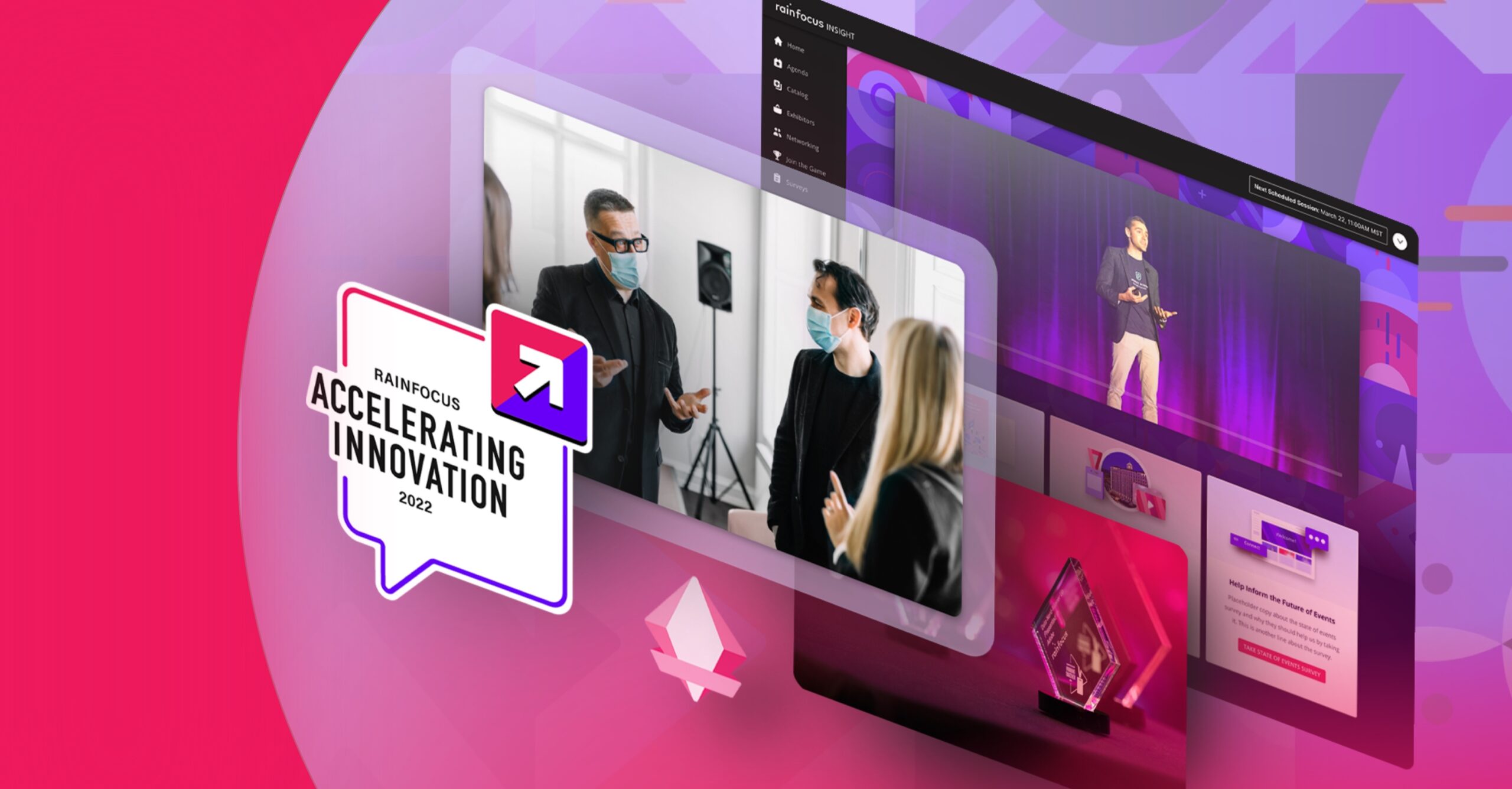 More than a year and a half into the COVID-19 pandemic, it goes without saying that the way organizations plan and conduct events has changed dramatically. From early 2020, when the abrupt industry-wide wave of in-person event cancellations swept across the globe, to subsequent months of alternating optimism and renewed caution, many CMOs and events teams have faced challenges and uncertainty.
But the forced reset also offers enormous opportunities. For organizations willing to embrace bold changes (backed by evidence) and allow their future events strategy to be shaped by lessons of the pandemic, an integrated, highly effective, profitable future awaits.
"This has been such an opportunity to learn. If we fail to realize how much things have changed, then we will fall behind," said Alicia Tillman, RainFocus board member, during a recent webinar held as part of RainFocus' INSIGHT 2022 program. In a thought-provoking and candid "fireside chat" conversation with RainFocus CEO JR Sherman, Tillman laid out a modern-day framework for CMOs, dubbing it "the CMO imperative."
Here are four of the most important takeaways:
As investment mixes evolve, ROI is more relevant than ever. With some in-person events tentatively back on the table and others still on hold, managing the event investment mix — and the marketing investment mix as a whole — continues to be complex.
"We need to reprioritize our marketing investments and rethink our old practices to see what provides the biggest return," Tillman said. "Right now, some businesses have still cut their event spend, but others are bringing it back and need to demonstrate very high ROI that directly serves the priorities of the organization."
Maximize insights from the wealth of available data. Proving that critical ROI requires hard data. Marketers need access to consistent data from virtual events, hybrid events, and in-person events to present to stakeholders to justify event investments. "All spend and return must be measured," Tillman noted.
"There's a tremendous amount of pressure," Sherman agreed. "Some event budgets have been reallocated to virtual. Some are gone altogether and must be re-justified to the CMO. It's all about attribution and seeing where events now fit in the customer journey."
Data isn't just for showing ROI and securing investment, though — it helps organizations land and keep customers. "Events now touch all points in the customer journey," Sherman said. "Organizations can use behavioral data and insights they capture to learn how different types of events drive different results at various phases of a buying cycle."
"Pre-pandemic, organizations had different tools, platforms and apps, which made it difficult for marketing ops teams to justify integrations or get a clear view of different experiences vs than point-in-time investments," he added. "With a single event platform, requiring a single integration point, there's now far more access to vast real-time data."
"When we are building out the event strategy and infrastructure, it must be integrated well across the entire customer journey, and therein lies a tremendous opportunity," Tillman noted. "When you're capturing data in the most effective way, you can shape the customer journey. That's a very prominent goal on any CMO's agenda."
Deliver personalized, curated content — efficiently. The natural next step with all that data is to ensure the organization serves content to each person in the right form and at the right time. Pre-pandemic, marketers had begun giving more attention to personalization and customer experience, recalled Tillman. Now, the priority is increasingly important, as organizations must stay in tune with customers' current challenges.
"Content is such an incredible part of personalization," she said. "One of the opportunities we have as marketers is to not think we have to reinvent the wheel with each thing we create. We often spend a lot of time creating relevant content, but part of optimizing the process is not reinventing each time."
Sherman described content as one of the most significant evolutions in pandemic-reshaped marketing. Previously, determining attendees' and other buyers' preferences often amounted to a guessing game, but with data from virtual events integrated into digital marketing, a smart, curated content experience is not only available, but easily created.
Elevate event conversations throughout the C-suite. Finally, decisions about events and the rest of marketing program deployment are no longer happening within silos; they're getting attention from the CMO, the CIO, marketing ops leaders, and others. This change is welcome, Sherman and Tillman agreed.
"The more we see organizations and individuals at all levels talking about event types and event technologies, the more events will become a more integrated marketing asset, instead of an island that passes over disconnected data," Sherman pointed out.
After all, event optimization transcends simple tactical decisions. "When the pandemic started, we all started to think about what it is that makes a given event so successful," he said. "It isn't the venue. It isn't whether it's online or physical or hybrid. It has to do with providing the proper experience and ecosystem to the right constituents, allowing them to interact, and curating and providing the right content in a captive environment."
Ultimately, it comes down to impact, Tillman said, summarizing her insights with a charge to CMOs and other leaders. "Here is the imperative for CMOs: How do you optimize in your business so that events consistently contribute to achieving your goals within an environment that changes minute by minute?" she said. "Marketers need to think about their shining stars in their investments and consider how to achieve higher returns and more strategic contributions."
---