Best Practices
Virtual Event Integrations 101
14 Oct 2020 | Heather Pryor | 2 minutes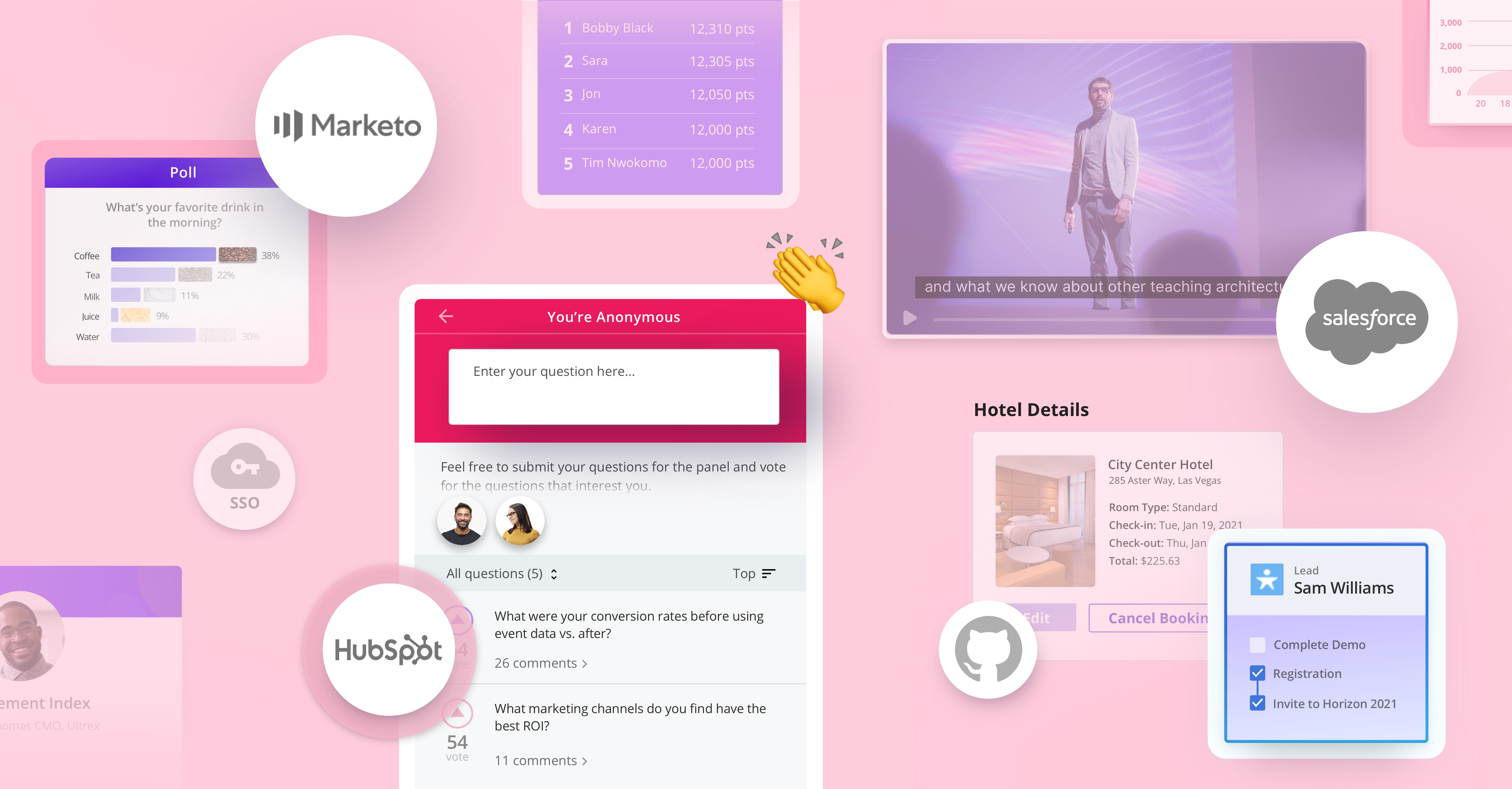 With new virtual events, it's more important than ever to use event data to analyze and prove ROI. Cobbling together siloed information that's been extracted, transformed, and merged beyond recognition just won't cut it. Having clean virtual event integrations set in place is crucial to your event success.
Why Should You Set Up Virtual Event Integrations?
Not only will your virtual event integrations save you time as you share the value of your new virtual event with stakeholders, but they will also ensure a seamless digital experience for attendees. When combined with an all-in-one event management and marketing platform integrations enable you to drive better engagement.
Virtual event integrations come in all shapes and sizes. The following list explains the different types of integrations that you can leverage to enhance your virtual event.
Marketing & Sales Integrations
Integrating your marketing and sales technologies with your virtual event software will enable you to drive pipeline, accelerate marketing conversions, increase sales productivity, and boost customer retention. These integrations will empower you to demonstrate event ROI to executive stakeholders.
Security & Payment Integrations
Security and payment integrations are essential to processing payments, protecting attendees' personal information, and adhering to security regulations. These integrations are more important now than ever before due to the rise in cybercrime that is a result of the global pandemic.
Streaming Integrations
Streaming integrations empower you to deliver your ideal digital experience, whatever it may be. These integrations allow you to keep your data and processes in place while adding unique streaming capabilities. Create engaging sessions by embedding streaming to keep attendees on one page during each session. These integrations provide your attendees and exhibitors new ways of connecting with each other throughout your event.
Event-Specific Integrations
Similar to streaming integrations, event-specific integrations allow you to build out your dream event. Event-specific integrations include meetings collaboration, mobile apps, and other forms of interactivity. With event-specific integrations, you can incorporate niche technologies without losing out on the value of an all-in-one event management and marketing platform.
Drive better engagement, connect your sales and marketing efforts, and securely conduct business through RainFocus Integrations. Click here to discover RainFocus' latest integration partners.
---